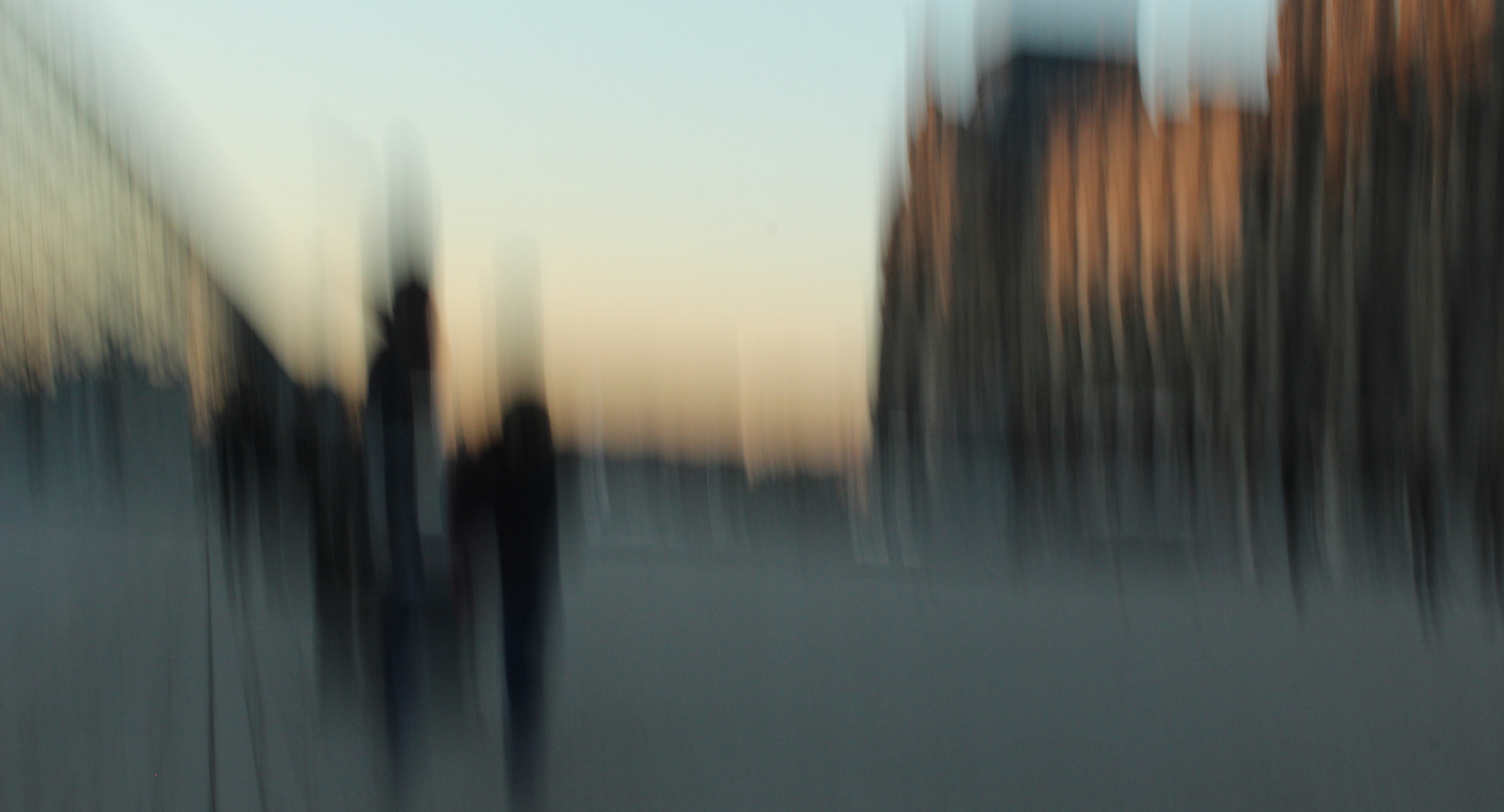 Citè internationale des Arts
As the undergraduate recipient of the John T. Milliken Foreign Travel Award, I was afforded two months and a space for creative work in a studio in the heart of Paris. I was surrounded by over 200 fellow artists: poets, musicians, playwrights, sculptors, printmakers, curators, researchers and others. 
Immersed in this incredible creative resource, I'm used my time to complete a series of "dailies" - exercises in which I explored visual, conceptual, formal or procedural ways of working by executing a project in a single day. 
Giving myself such a constrained time frame allowed me to escape feelings of self doubt and premature self-editing, giving way to an ambitious way of making that left room for positive failure and unexpected success. Projects explored a broad range of themes that related to my experiences in Paris, as well as concepts and ways of making that recur throughout my practice. Below is a sampling of dailies from the residency. 
Capture
Throwing a camera into the air at Paris's top 10 monuments | Investigating beauty consumption
The photographs in this book were created in response to the urge to consume beauty — an itch as urgent and physical as hunger or thirst — and as a reflection on the failure of photography to satiate that desire. 
In a single day, I visited Trip Advisor's Top 10 things to do in Paris, walking more than ten miles and pausing at each site no longer than 15 minutes. At each site, I threw the camera in the air to capture a randomized image, ritualizing the otherwise documentarian process of photo-tourism.  Ironically, the prolonged shutter speed and tumbling camera movement produce images that evoke the haste with which we consume these highly commodified landmarks. Simultaneously, the obfuscation of the original site encourages prolonged engagement with the image, an investigatory exploration that reverses the tourist's initial haste to consume.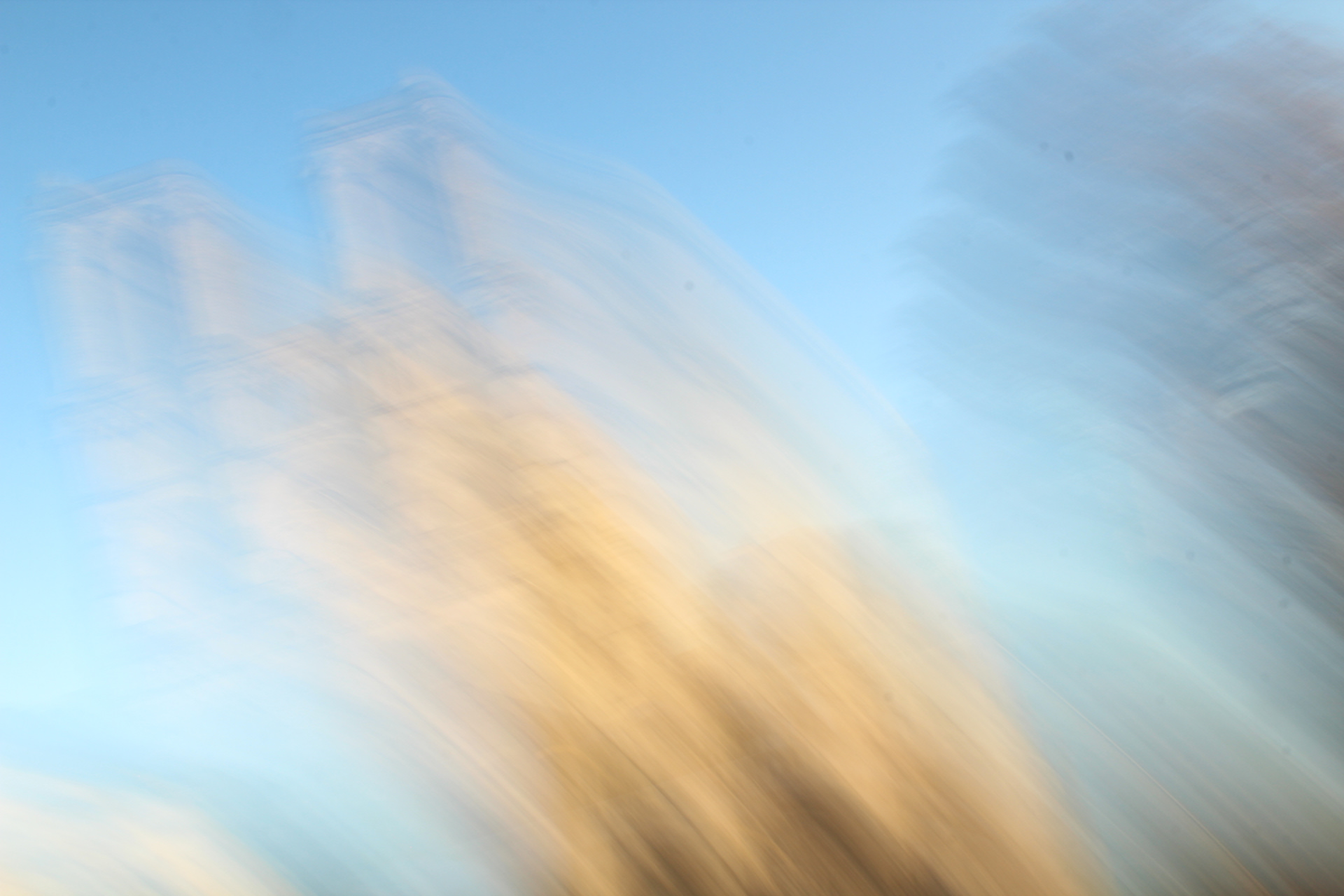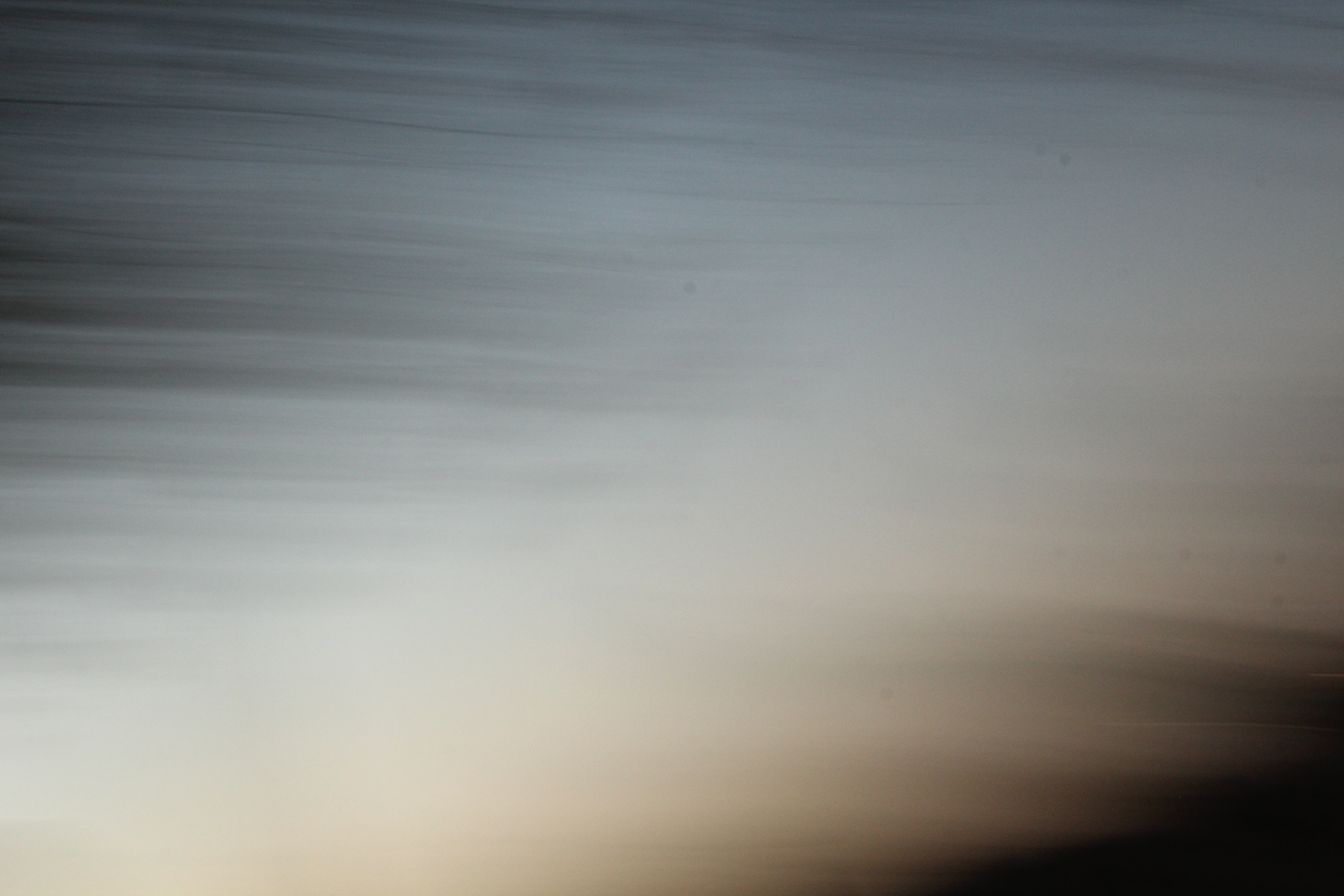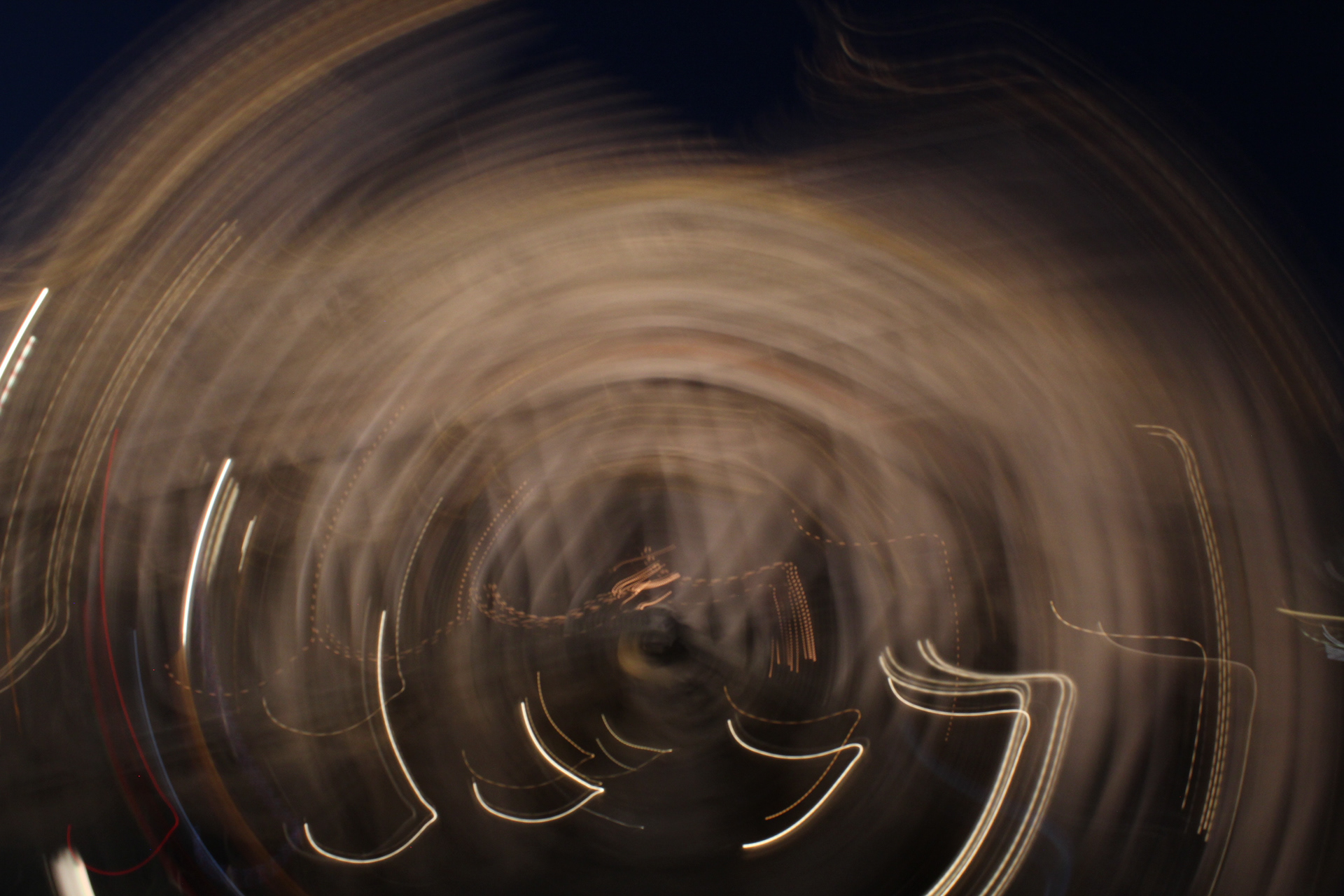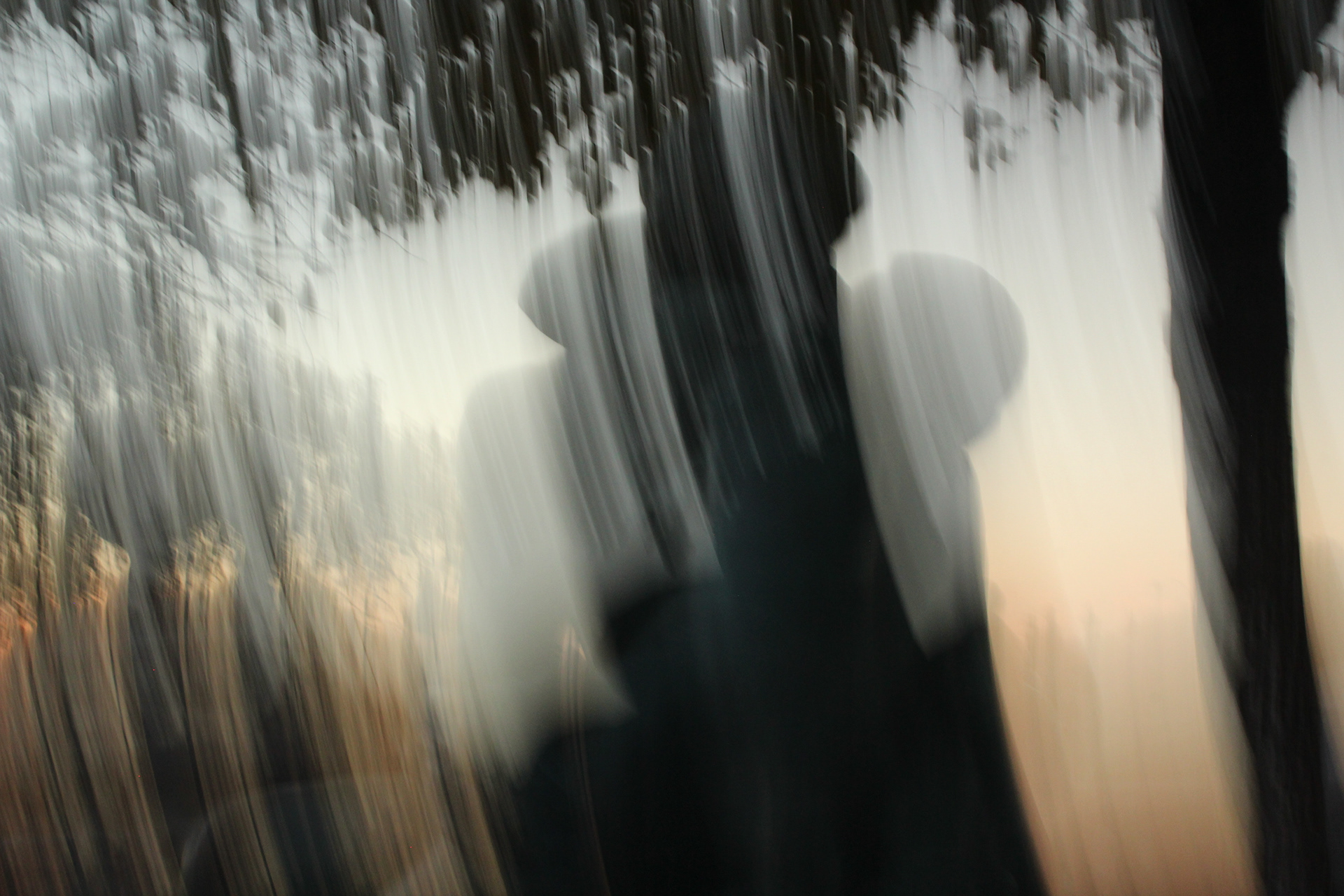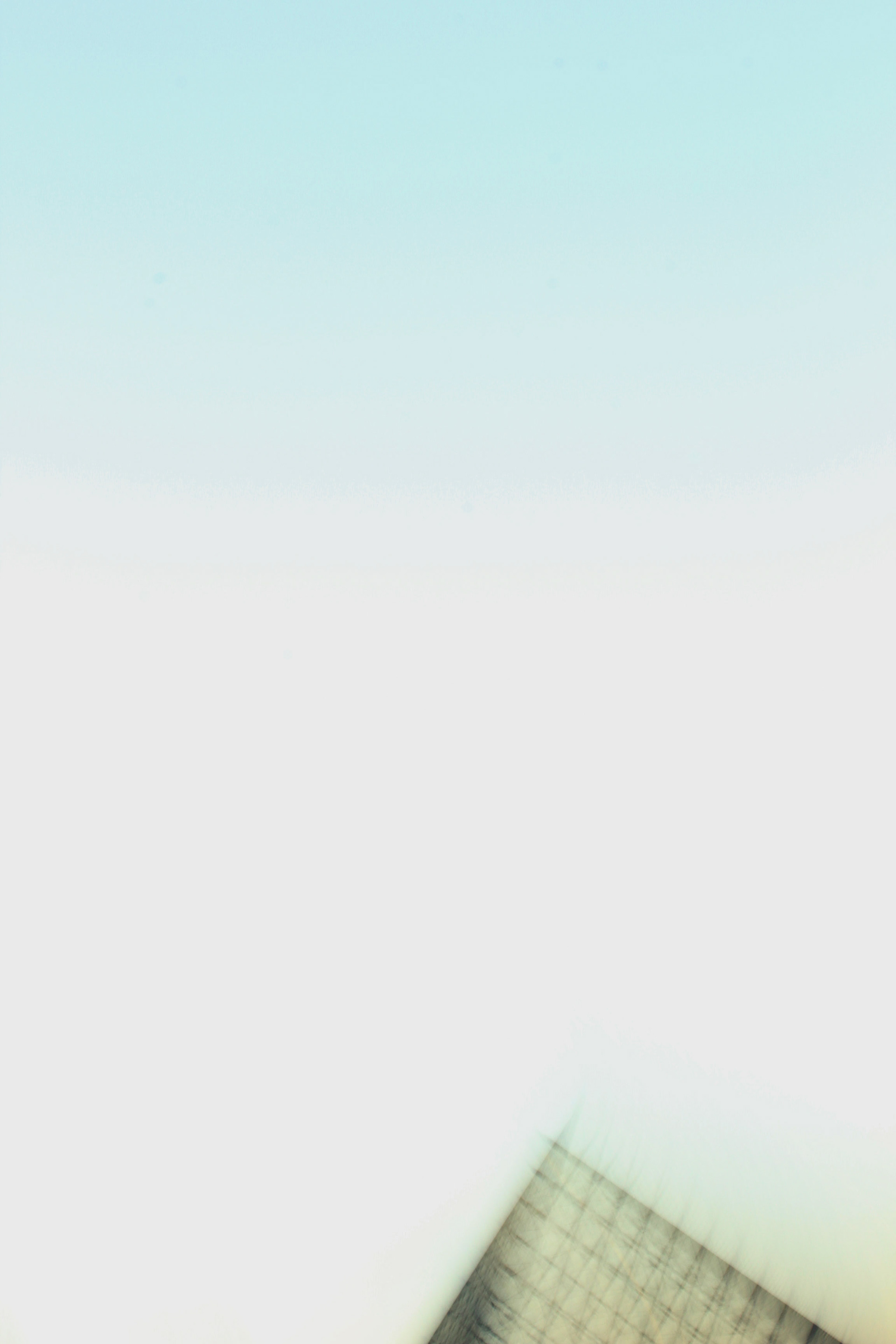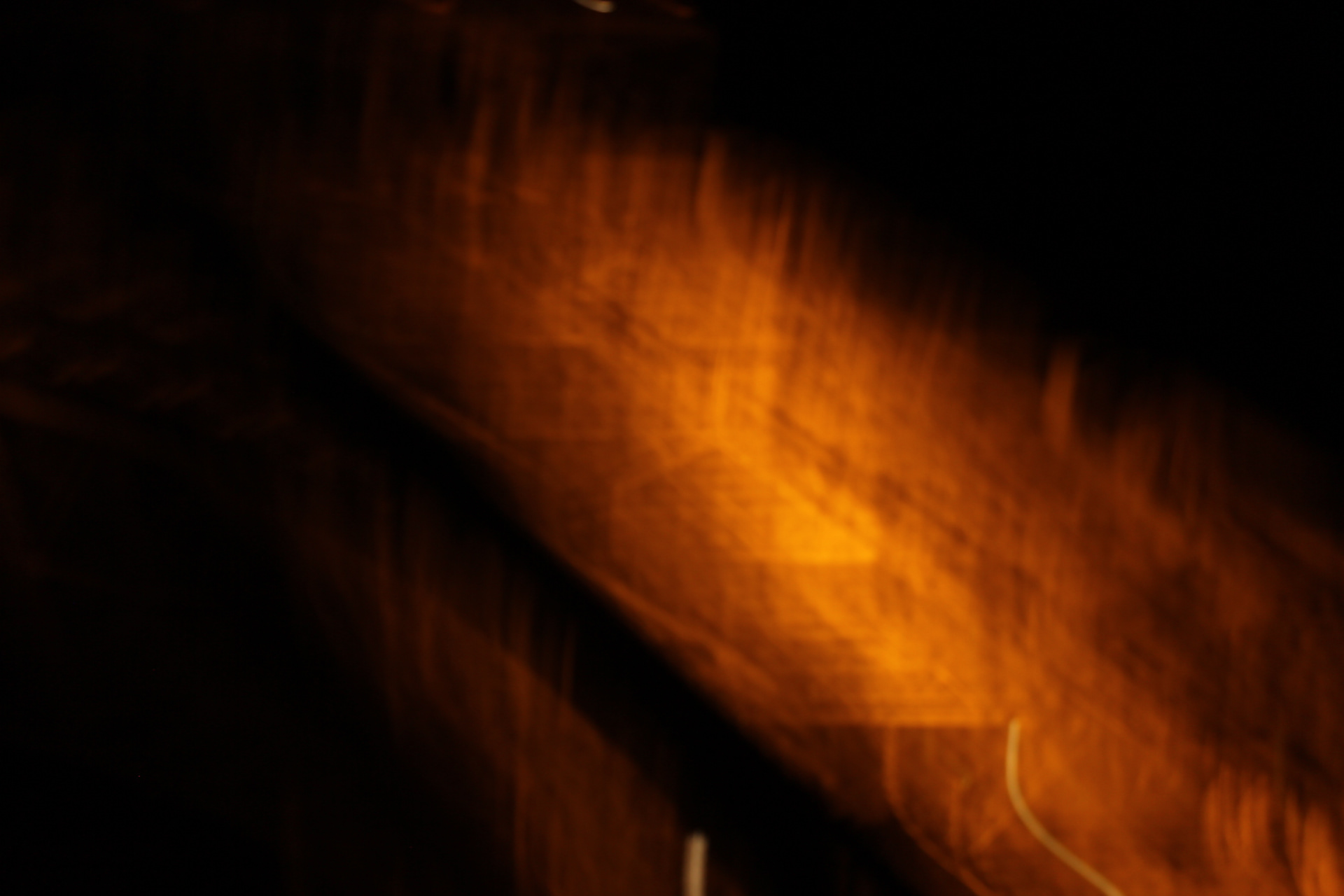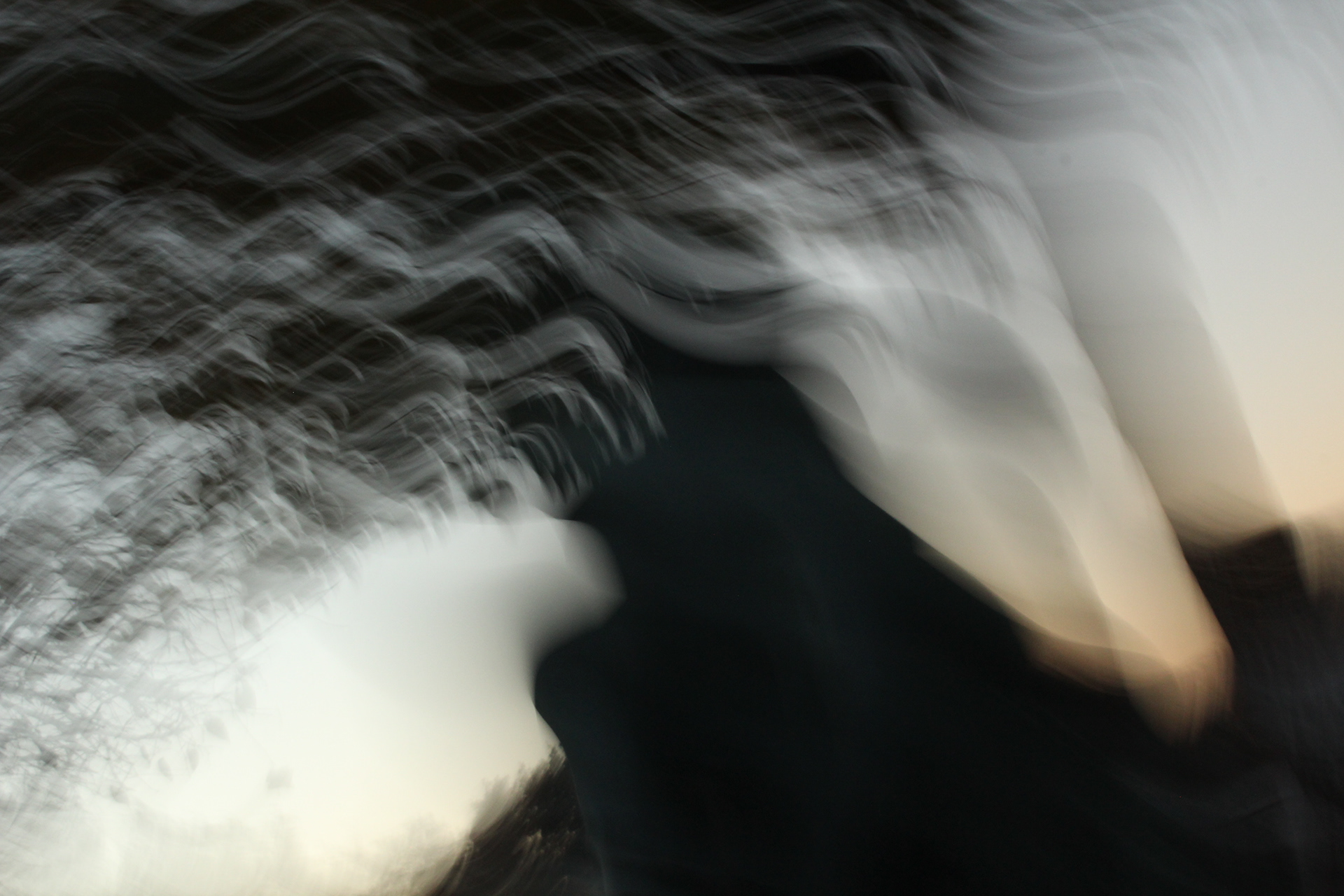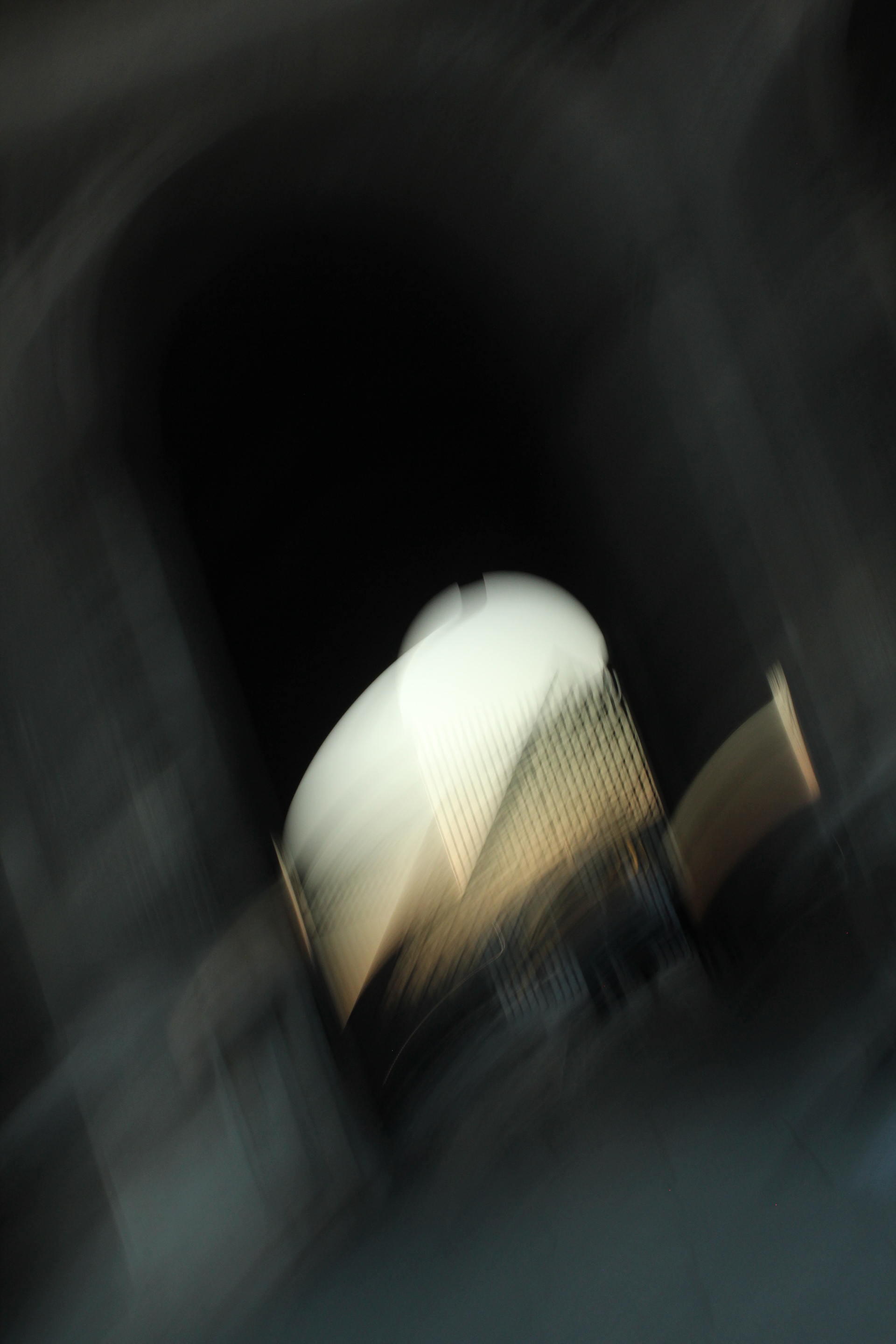 permanent
Pushing typographic composition using a technique I learned in a summer job teaching 5-year olds
In the summers of 2015 and 2016 I taught a summer class called Budding Einsteins, which let 5 and 6-year olds explore basic science concepts. It was exactly the kind of job young people are embarrassed to have on their resumes.  I loved it, and the chance to play and explore with the kids taught me an experimental painting technique of blowing bubbles into different colored inks. I've never been entirely sure what science concept this demonstrated to the kids, but returning to this enthusiastic sense of play allowed me to push my form in the way I manipulate type, and to evoke a sense of decay and impermanence that have become an important concept in recent personal work.
Working in this method provides a lot of physical randomness and unexpected results. My initial intention was to create letterforms or a typeface using this imagery, but became more interested in the image a multi-layered, semi-translucent surface.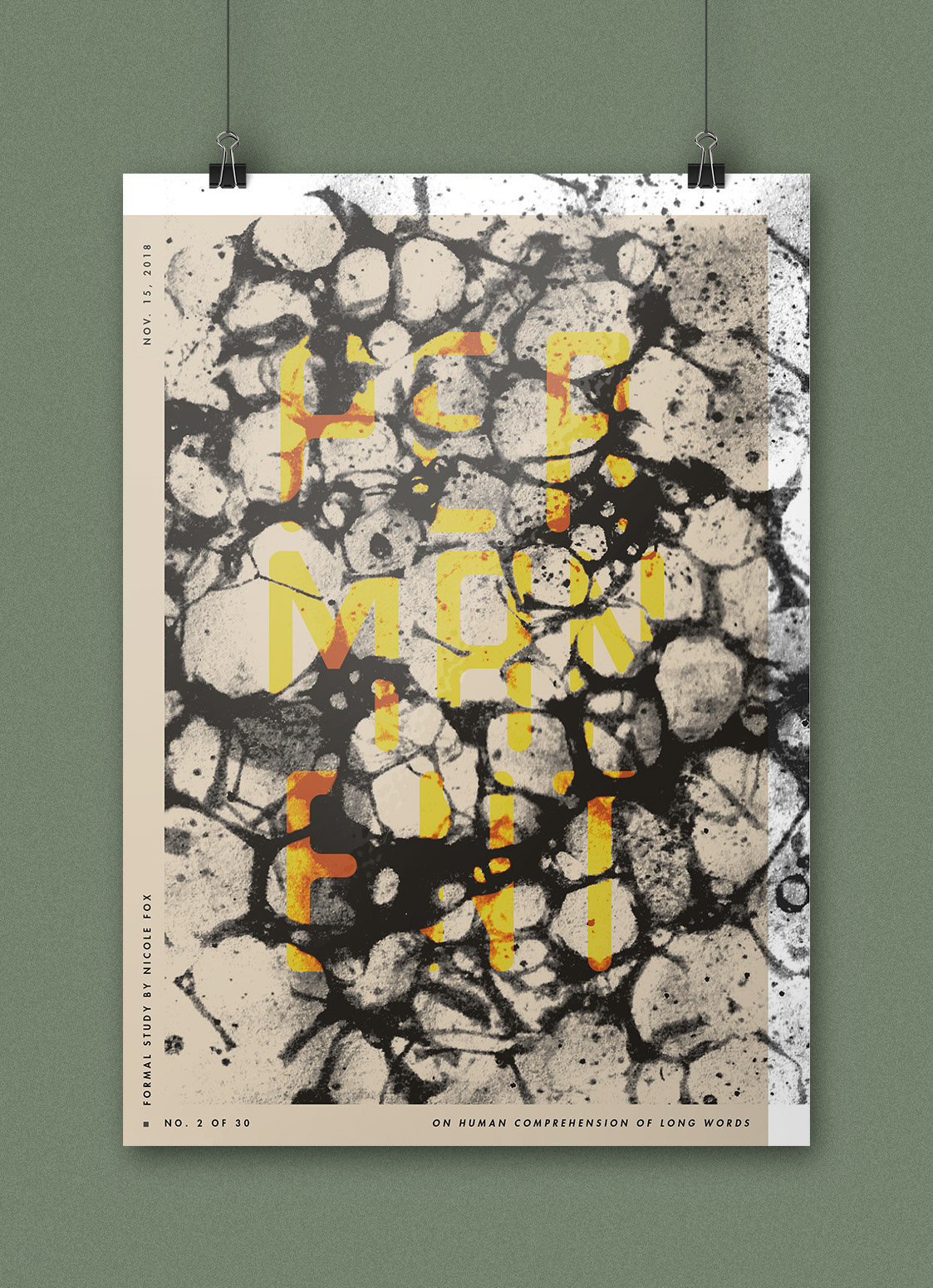 Analog combinations of type and image.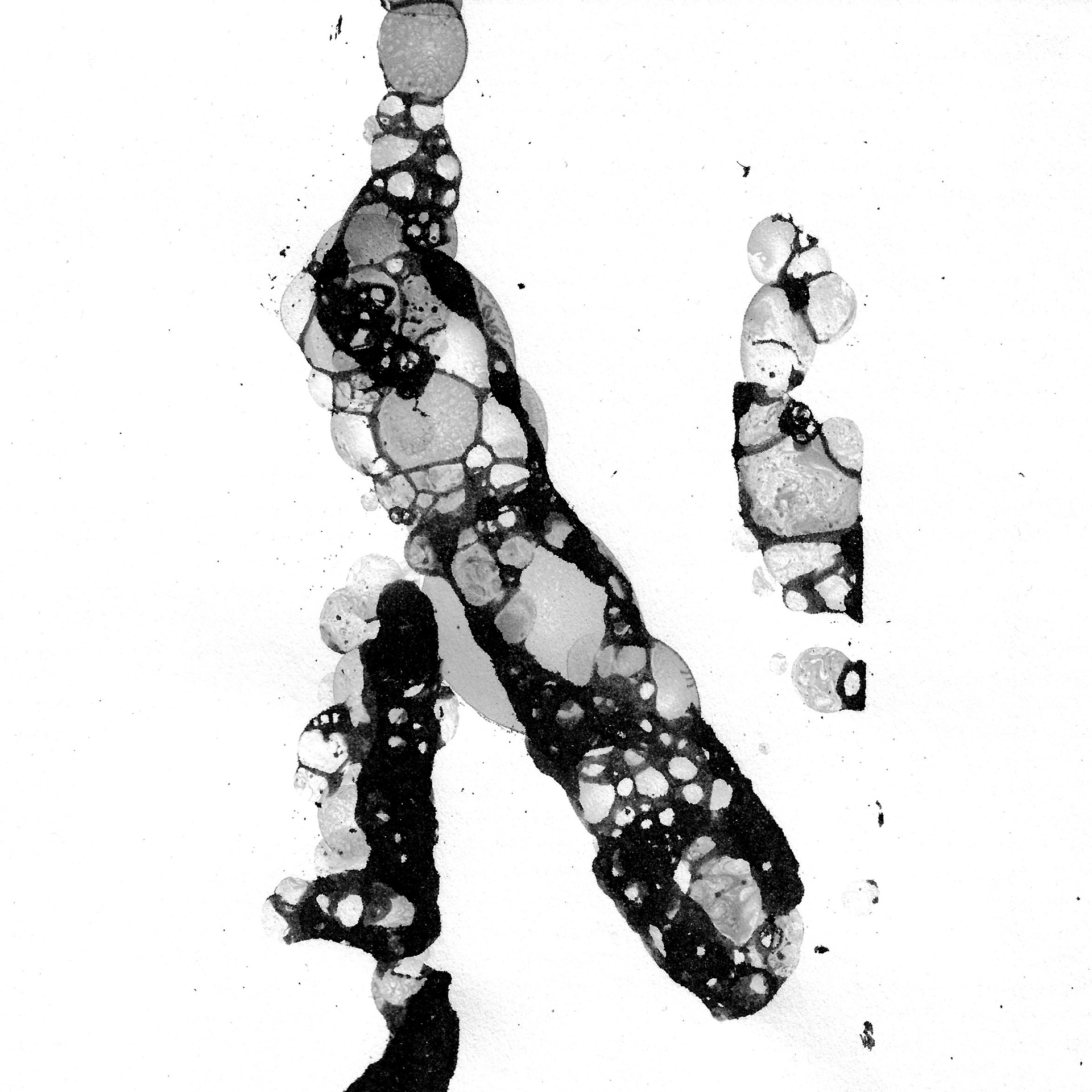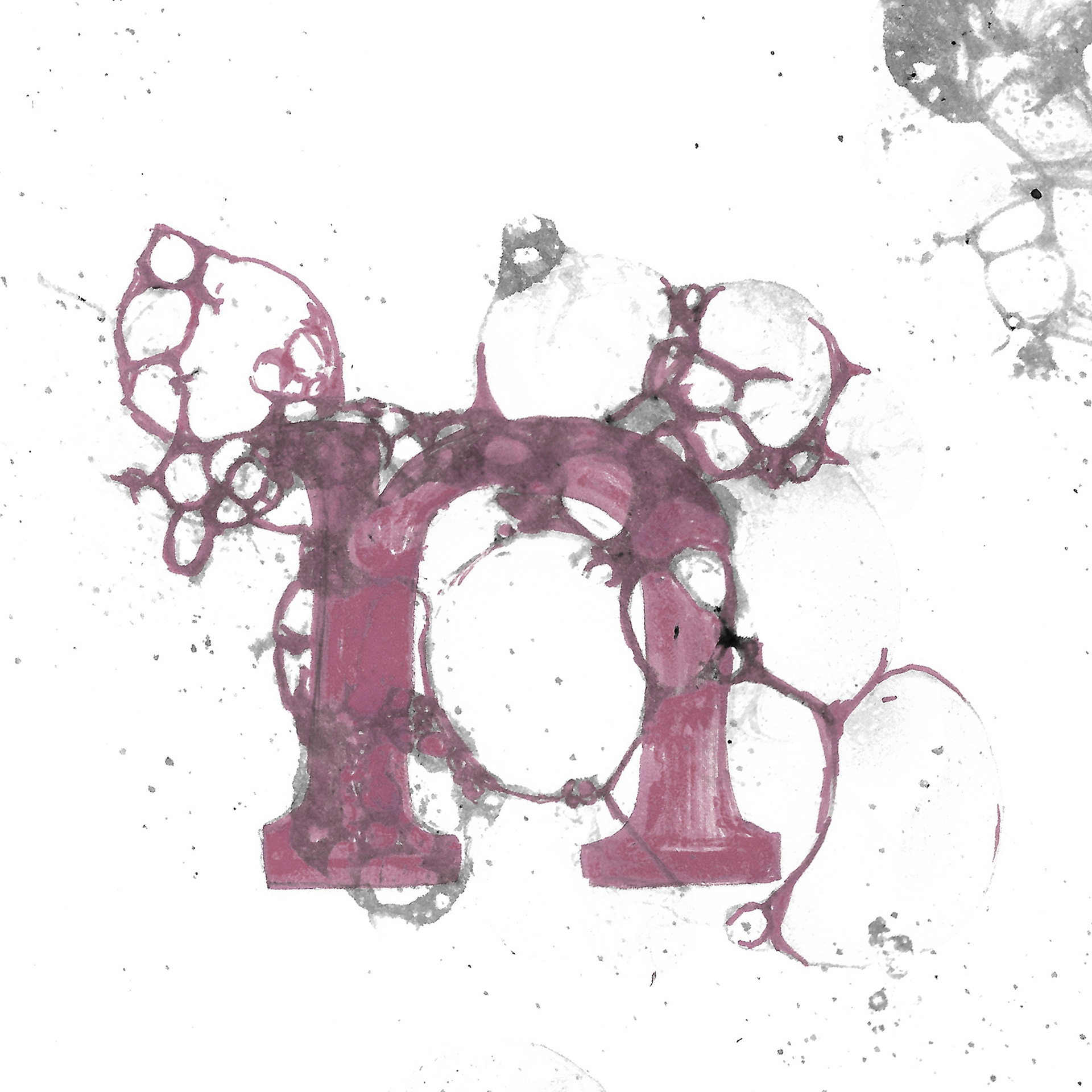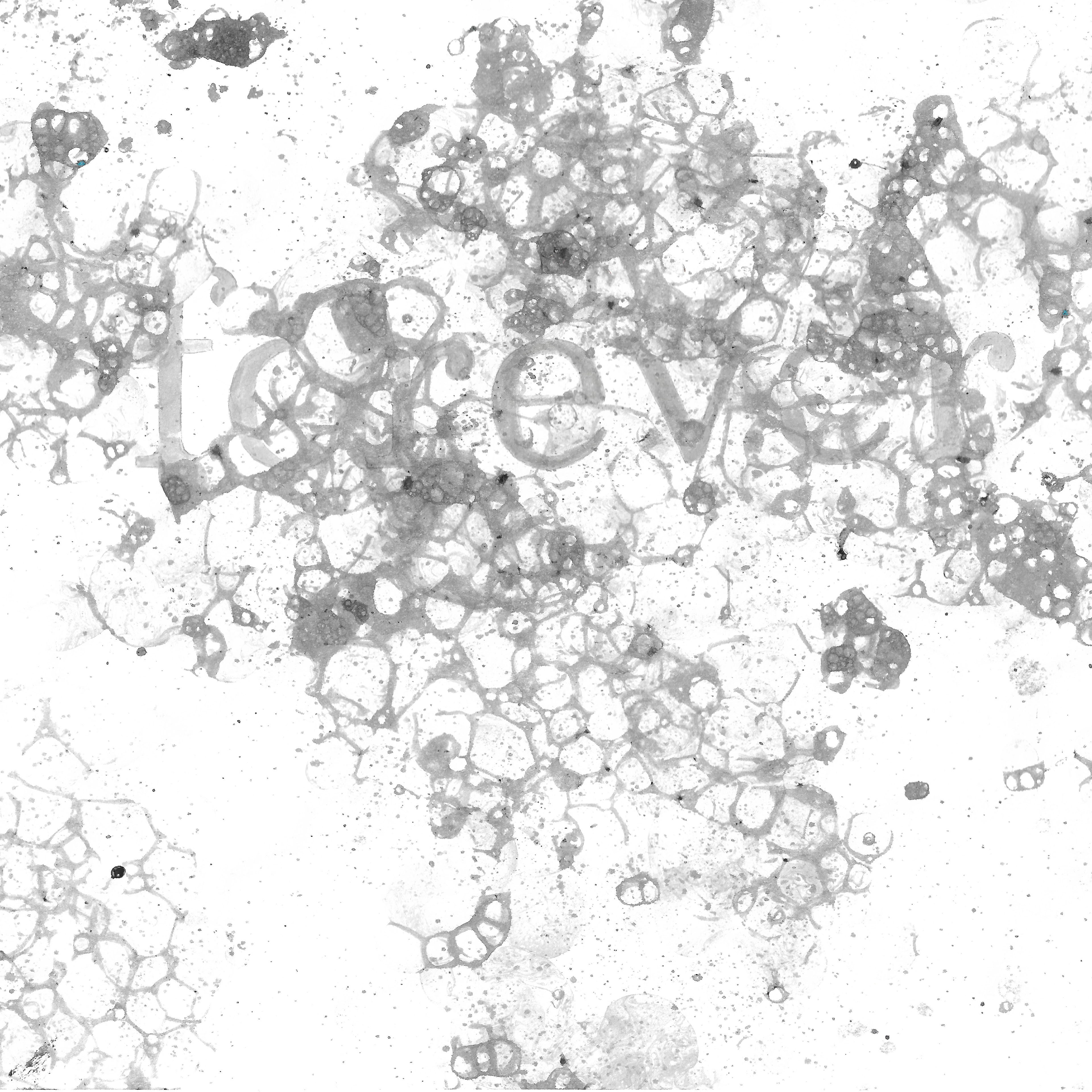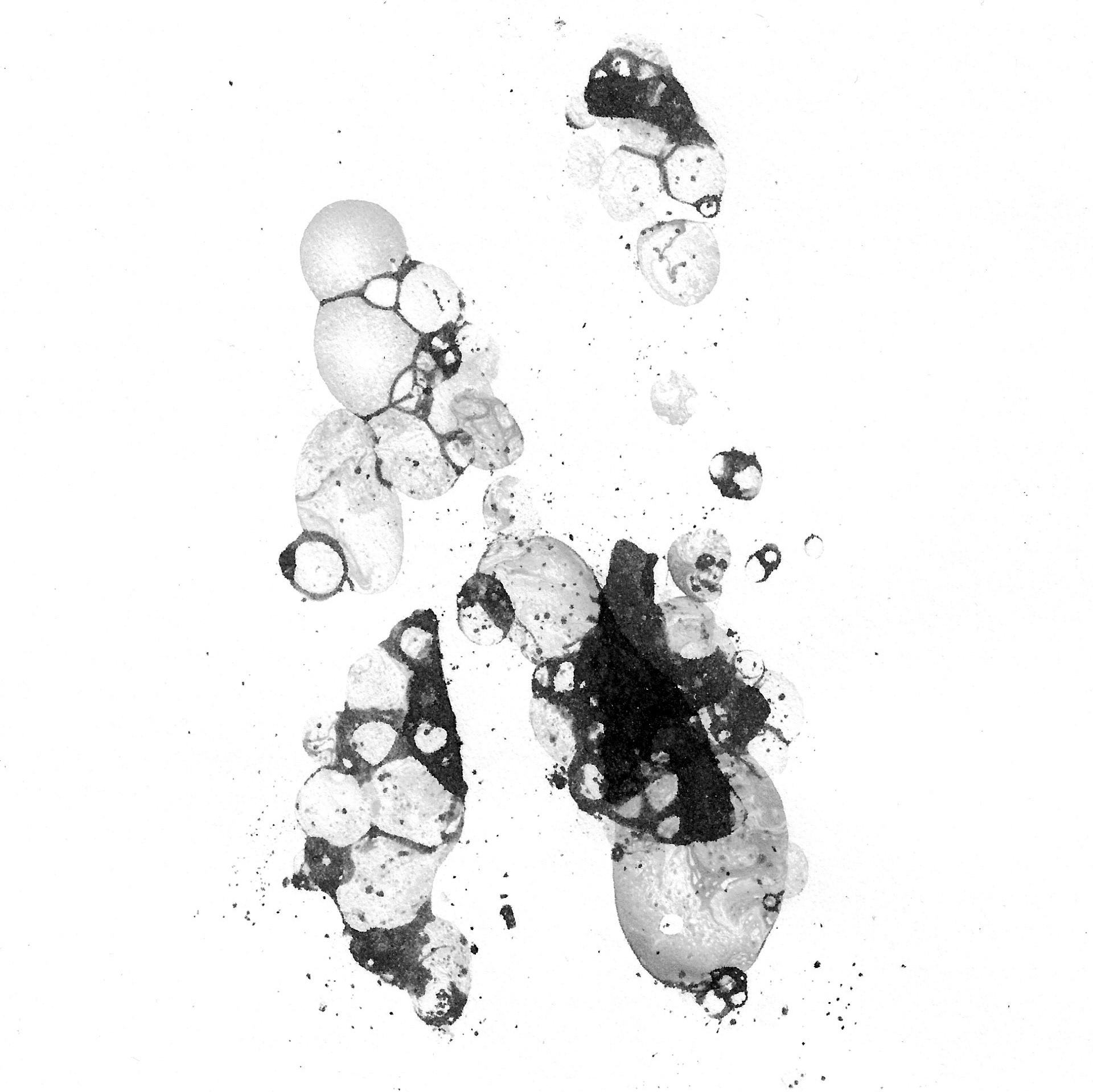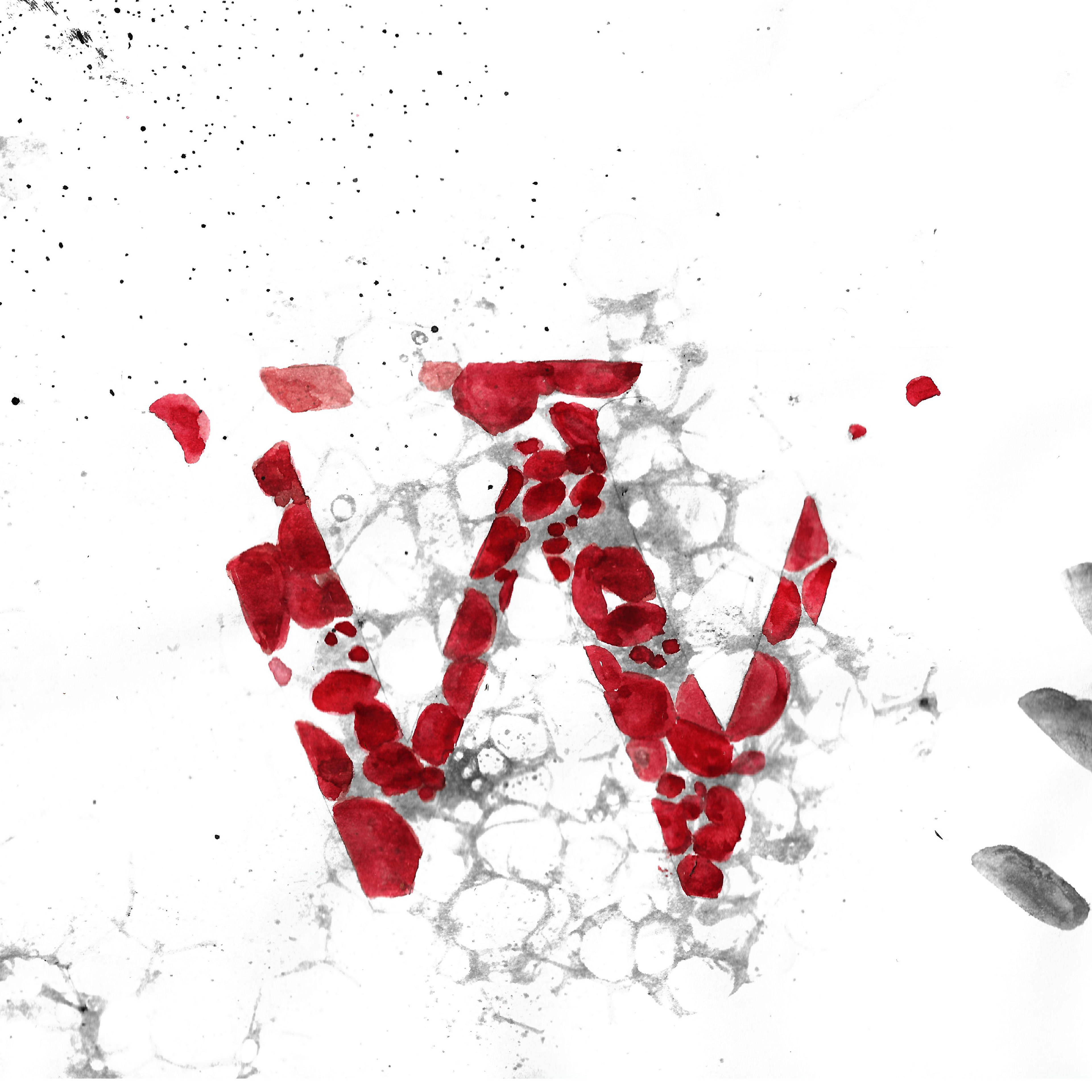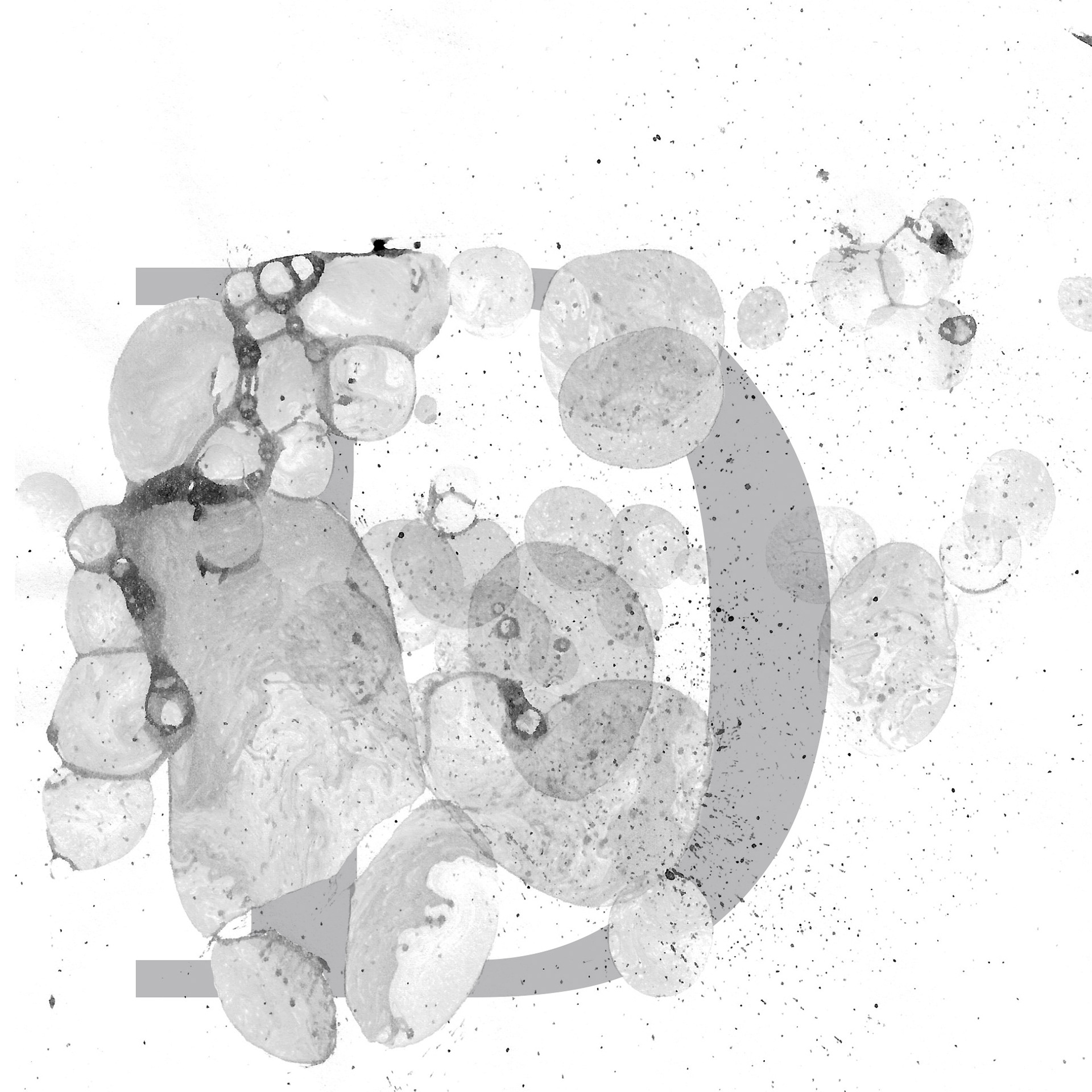 Combination of ink and photography.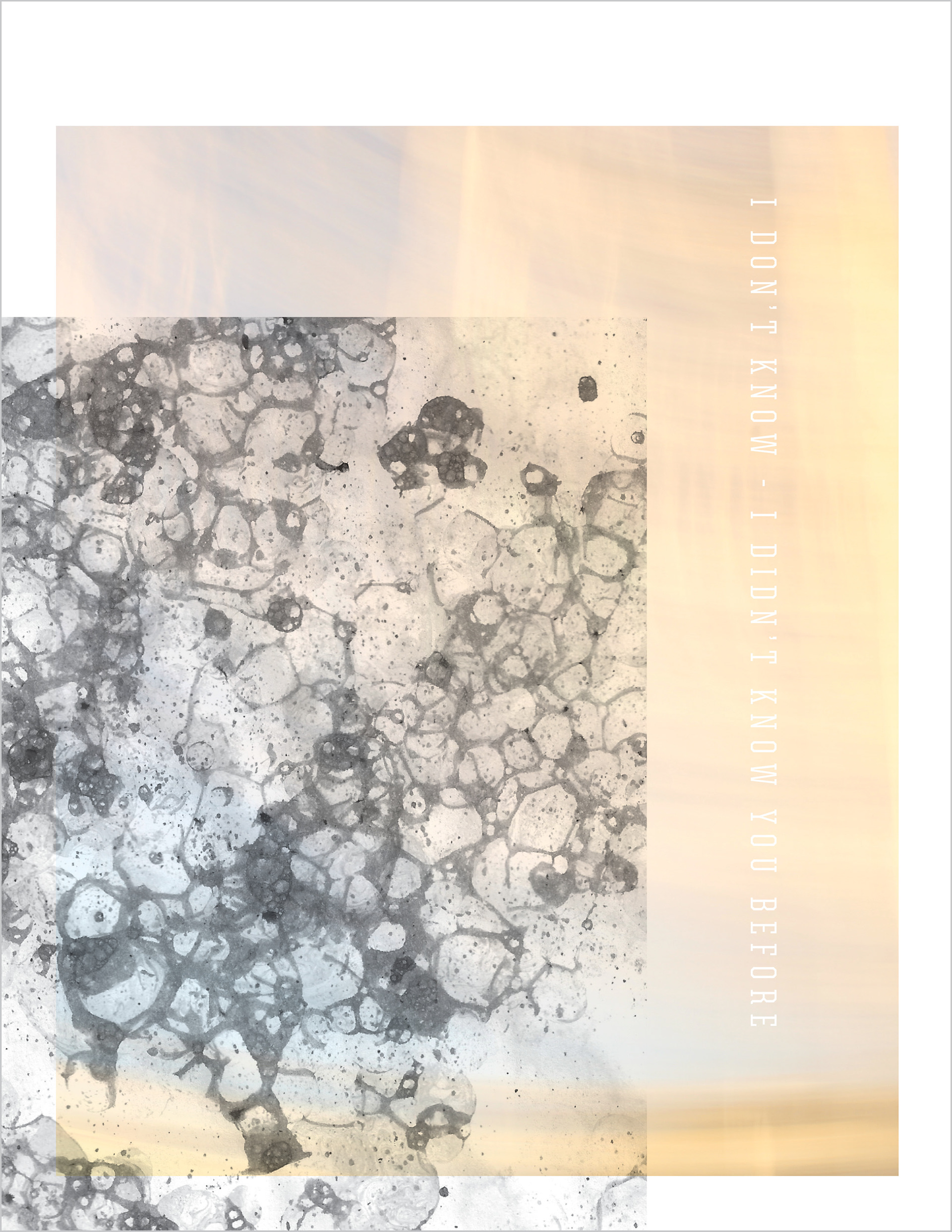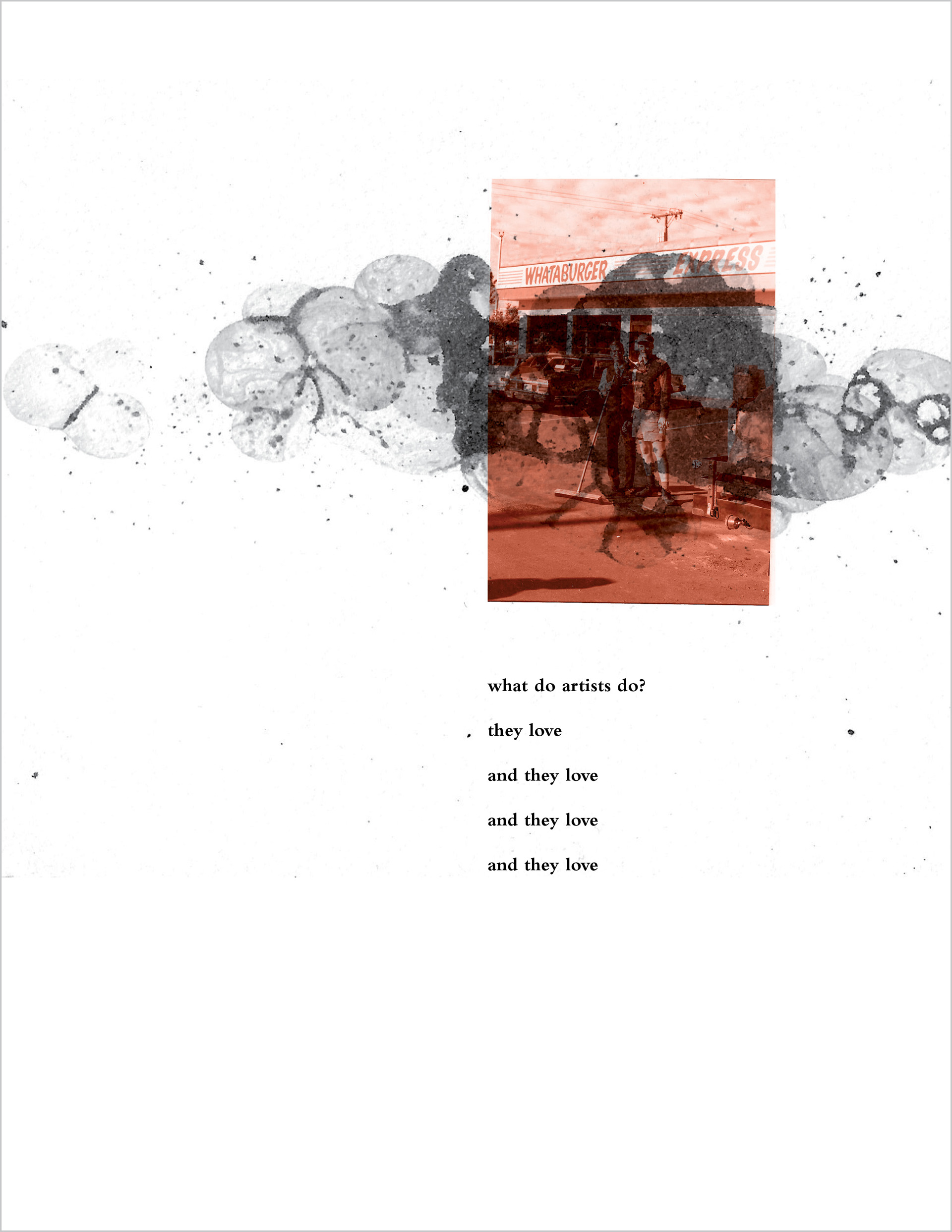 an accounting
Potato printing and non-traditional storytelling
This project stemmed from a suggestion by Lucas Drummond, a talented designer and studio mate, to document my residency in terms of numbers, counting croissants eaten or baguettes purchased.  In beginning an accounting of my experience, I became interested in the sorts of stories that can develop despite the perceived sterilization that occurs when reducing our lives to statistical analysis. I'm interested in the power of the reader to build a rich and personal story off of different combinations of phrases and numbers. For instance, a narrative begins to appear in the combination of "postcards bought" "postcards written" and postcards sent" and the numbers attached to them. For this reason, I used a very rudimentary stamping system, carving out the numerals from potatoes. This allowed both for formal exploration and for variability in the types of stories that develop - 1 bottle of wine consumed versus eleven. 
The book's format - separate, unbound pages or notes - is non-linear. Taken altogether, the collection of statistics hints richer themes of loneliness, isolation, and early stages of relationships. What interests me most about this project is the dynamic that develops between the author and viewer, and the variability that is inherent in relying on the viewer to build a larger narrative out of small component parts.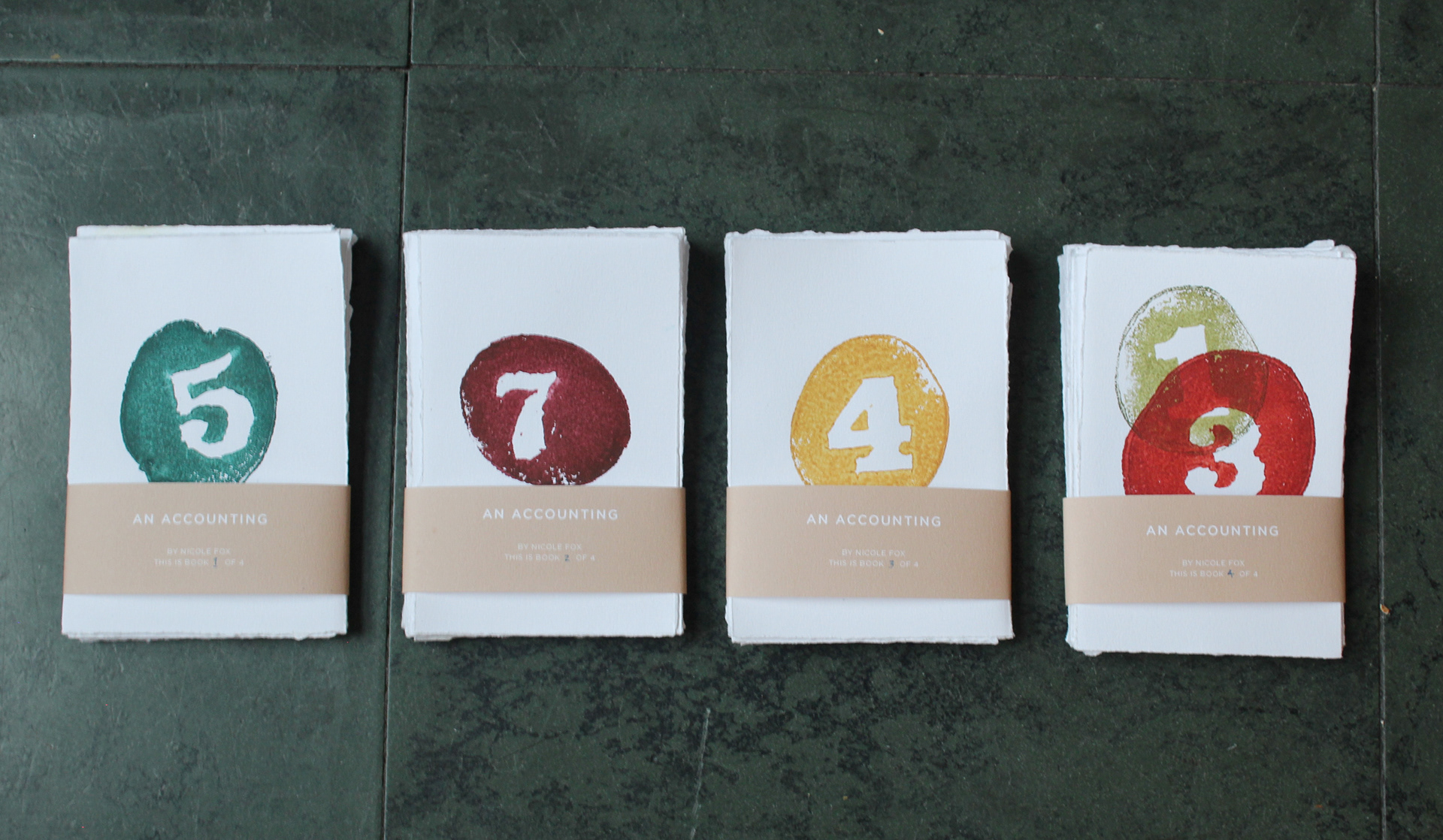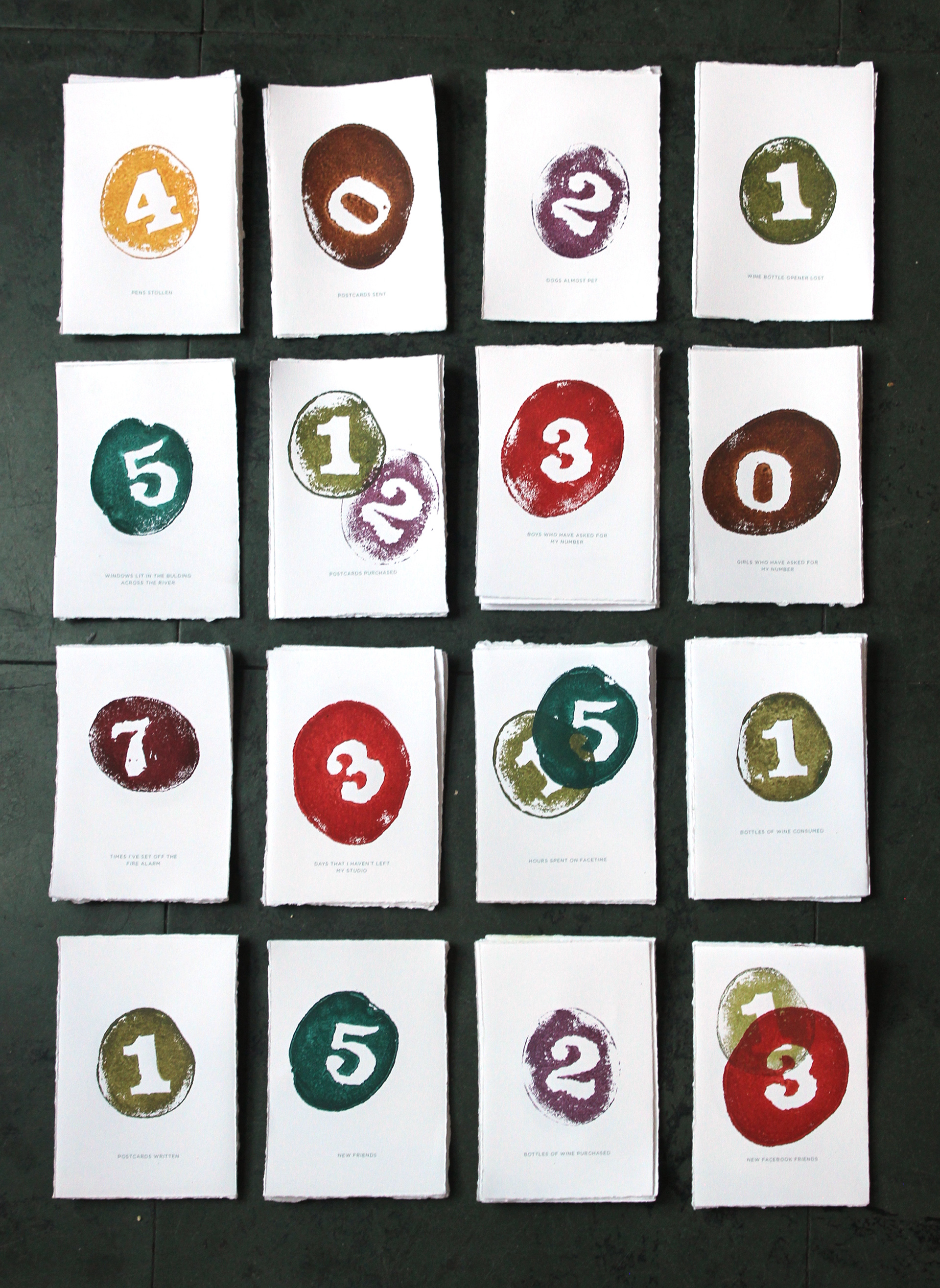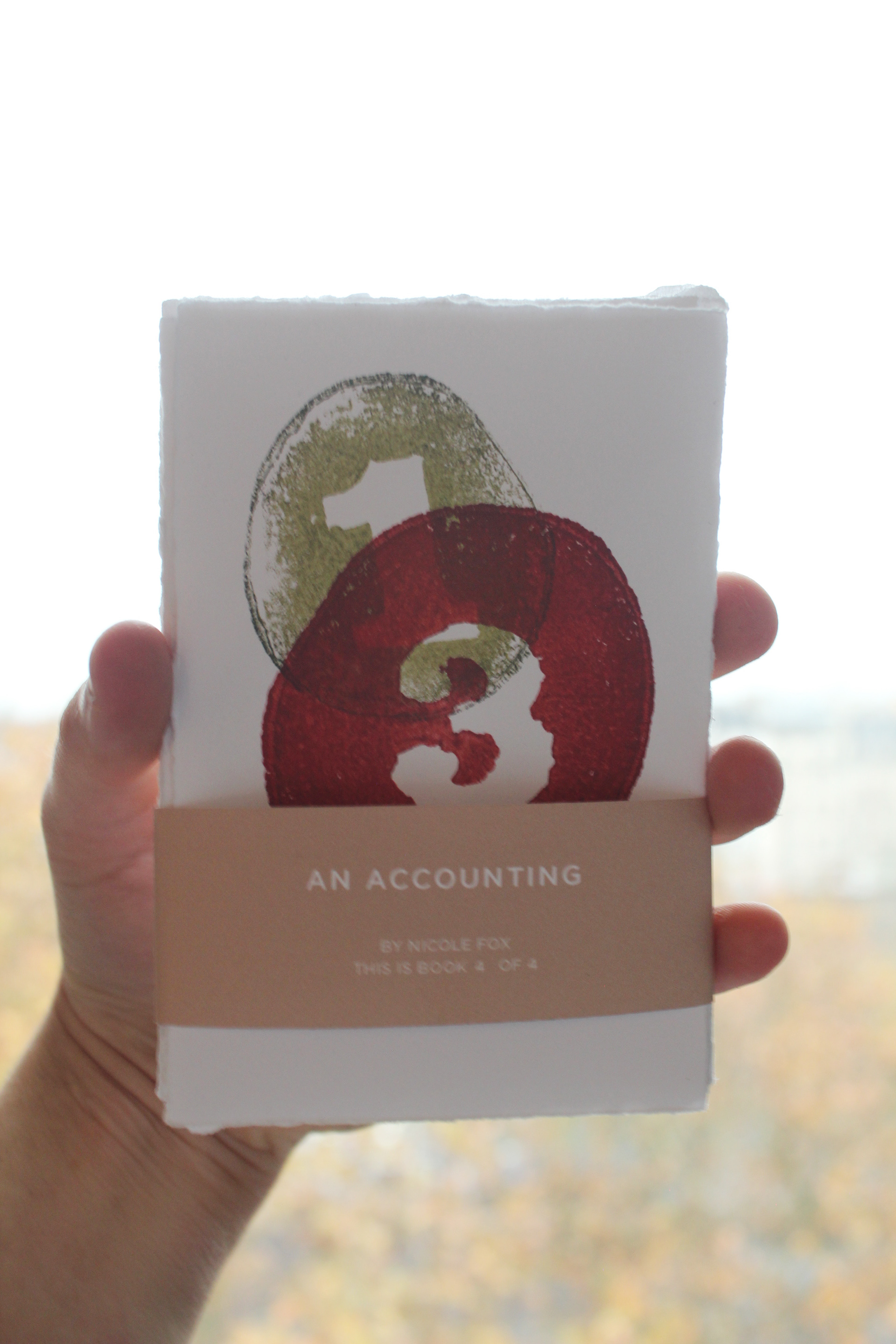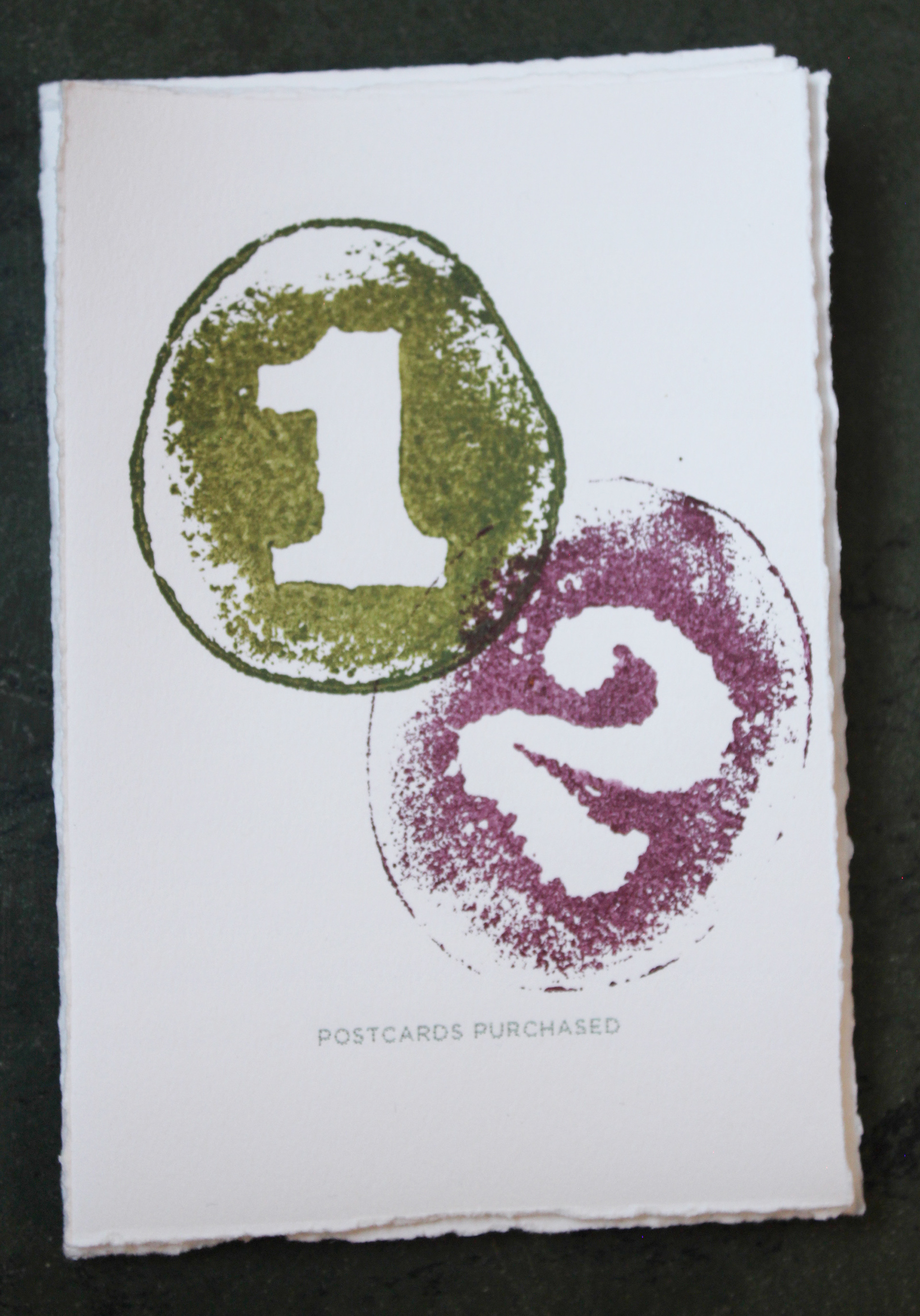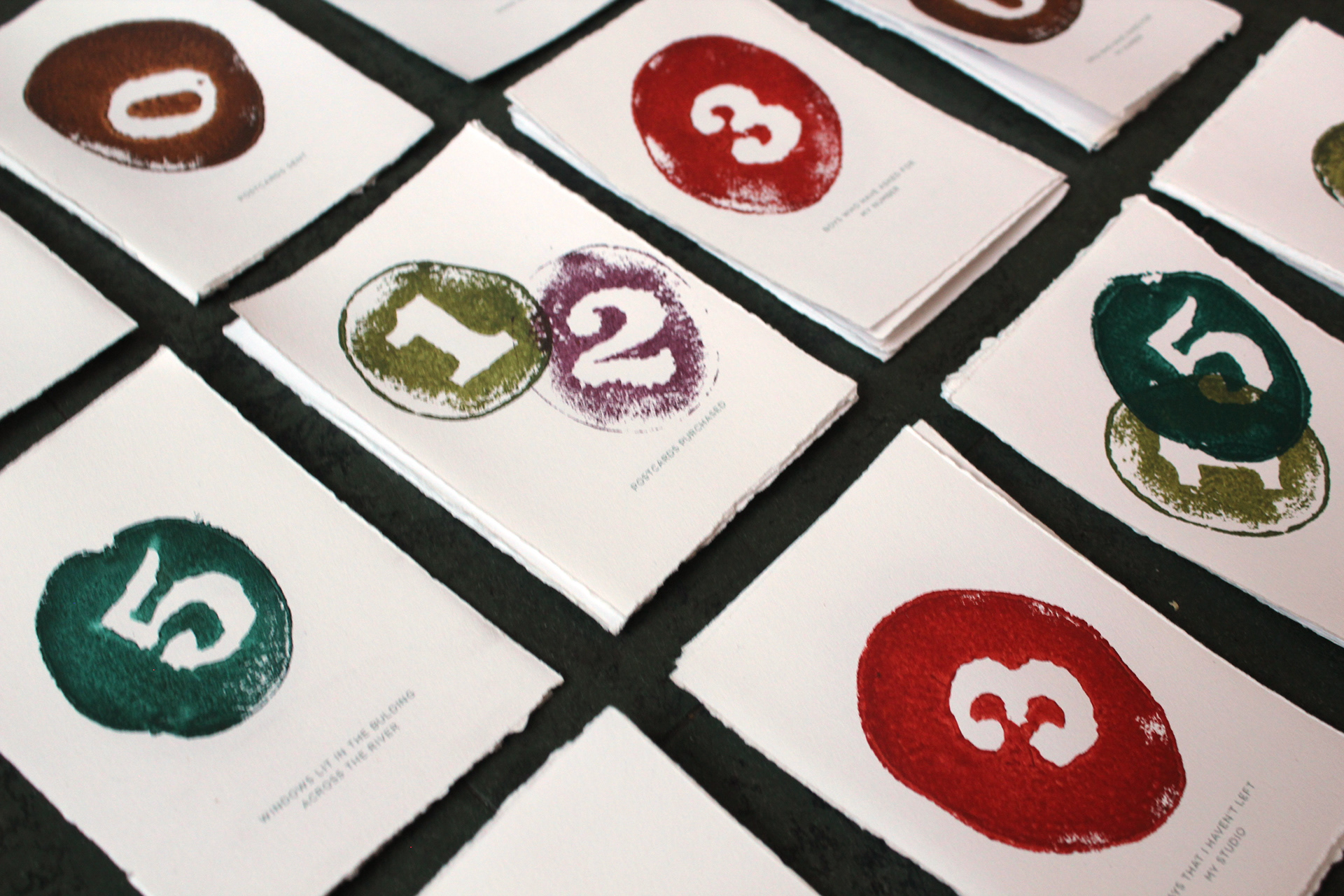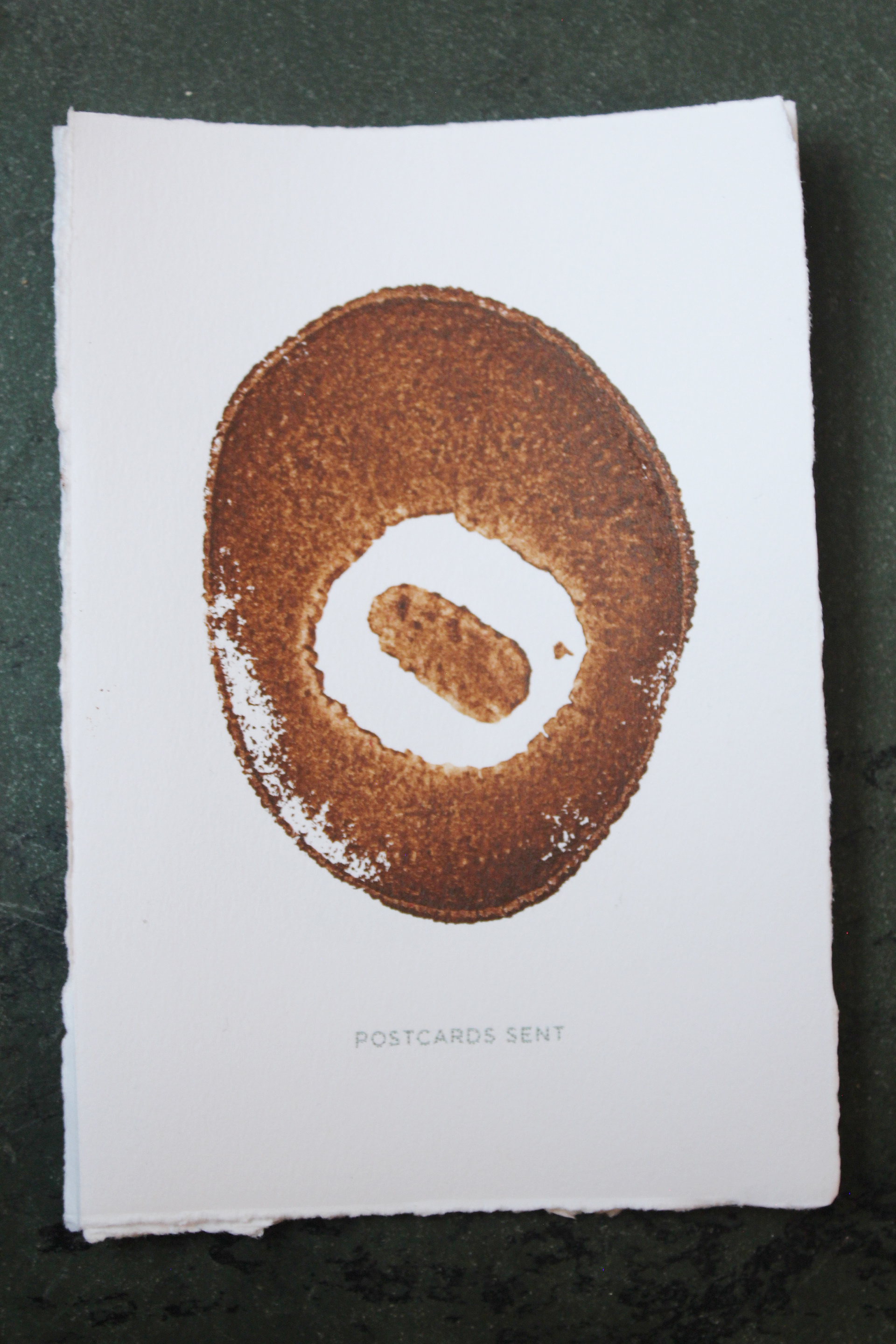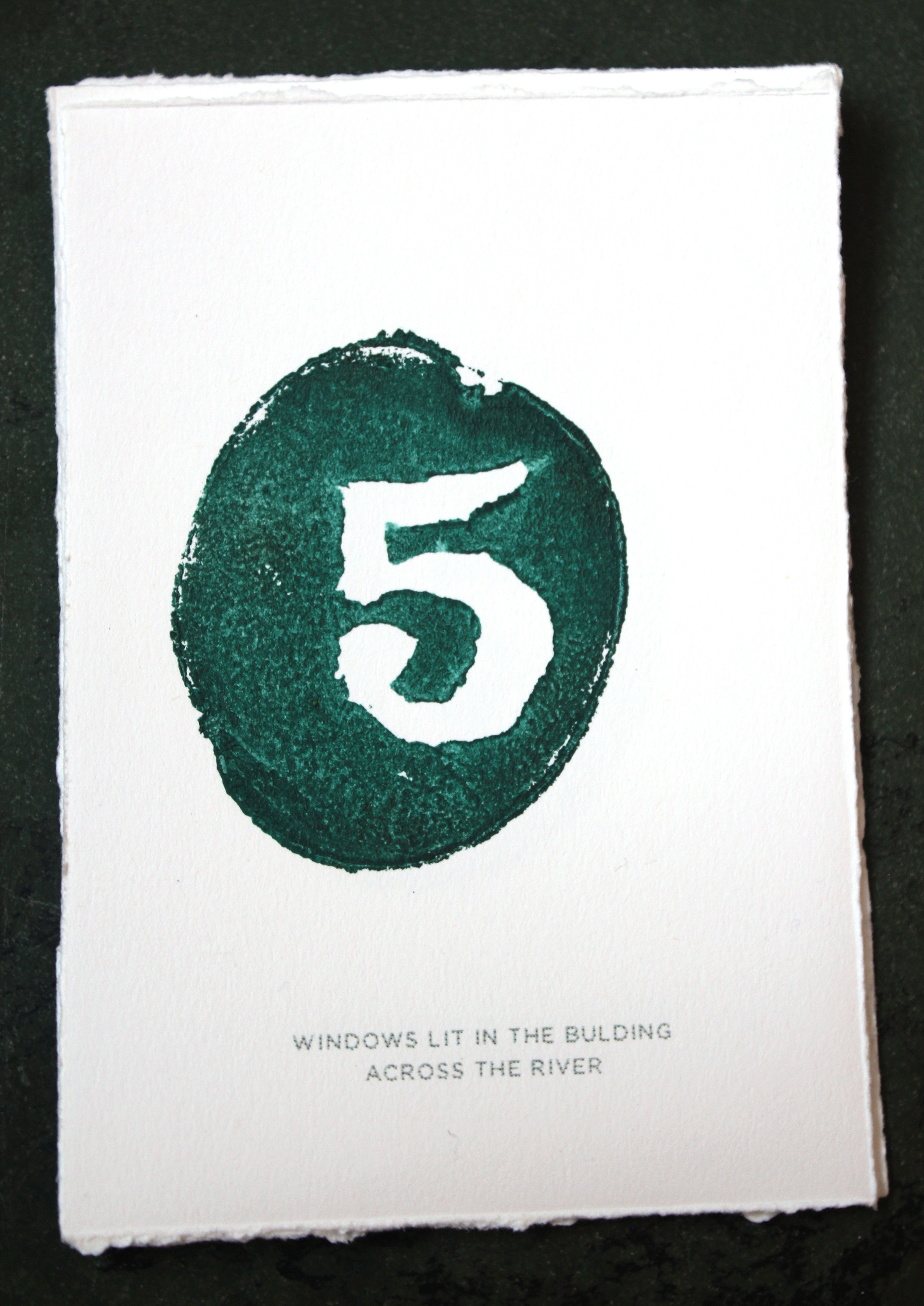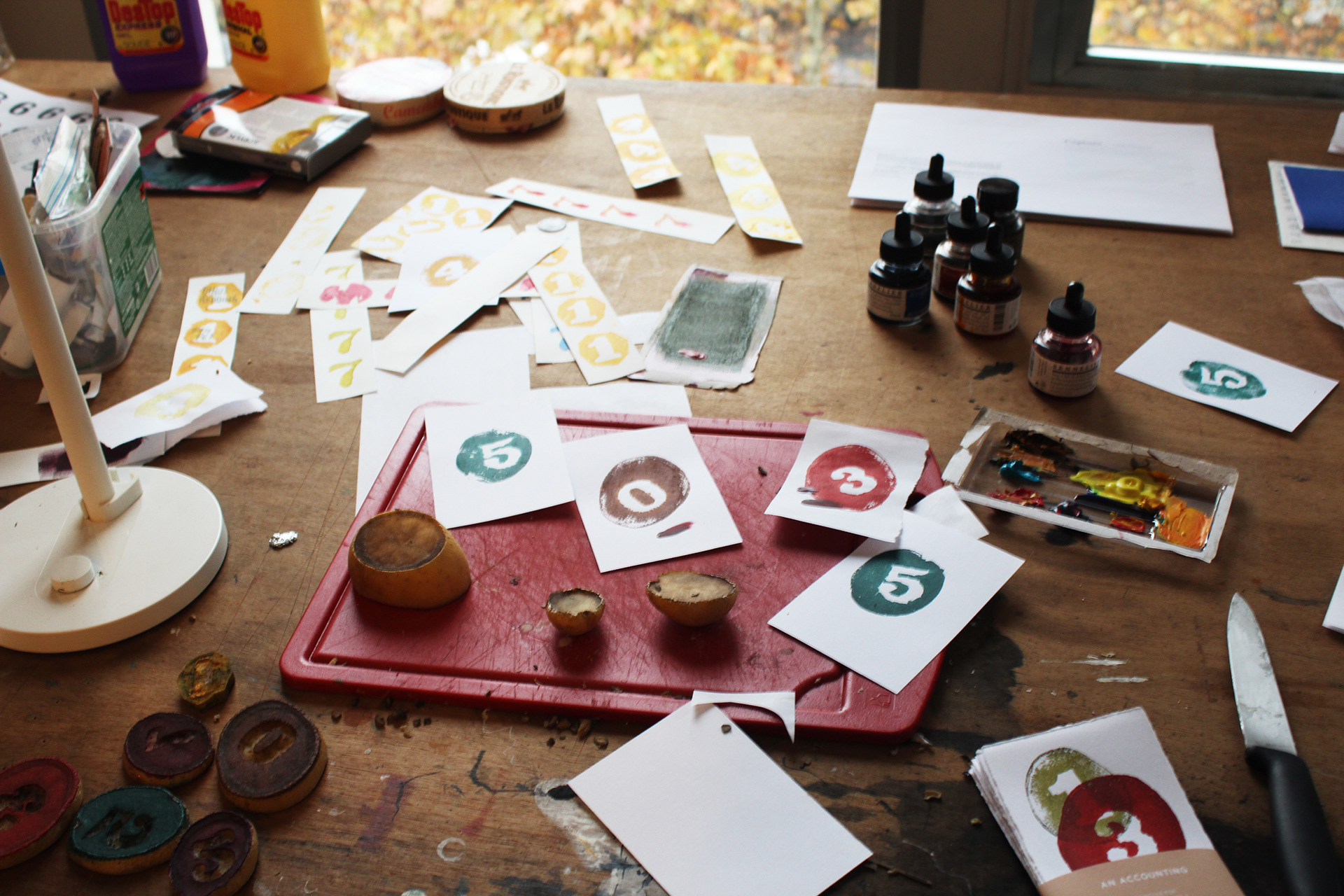 Sketchbook Practice
Journaling, varied illustration styles and collage - s
preads from my personal sketchbook
Although I primarily focus on typographic and print work, drawing has always provided me with a meditative and instructional way of observing and processing the world around me. The spreads here represent visual influences presented in Paris, be they the artists in the many marvelous museums, the people who surround me in the residency, or the goings on in the city.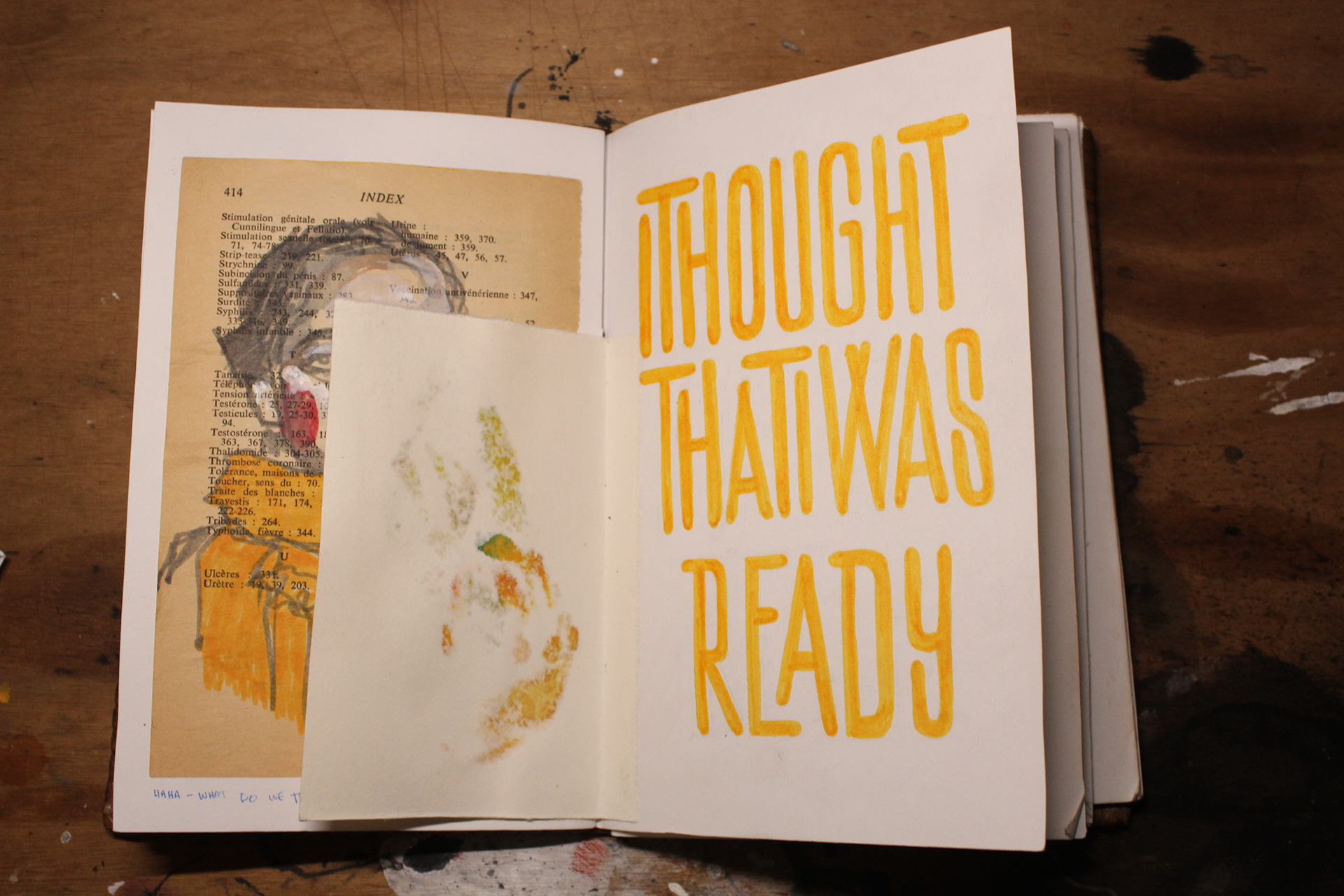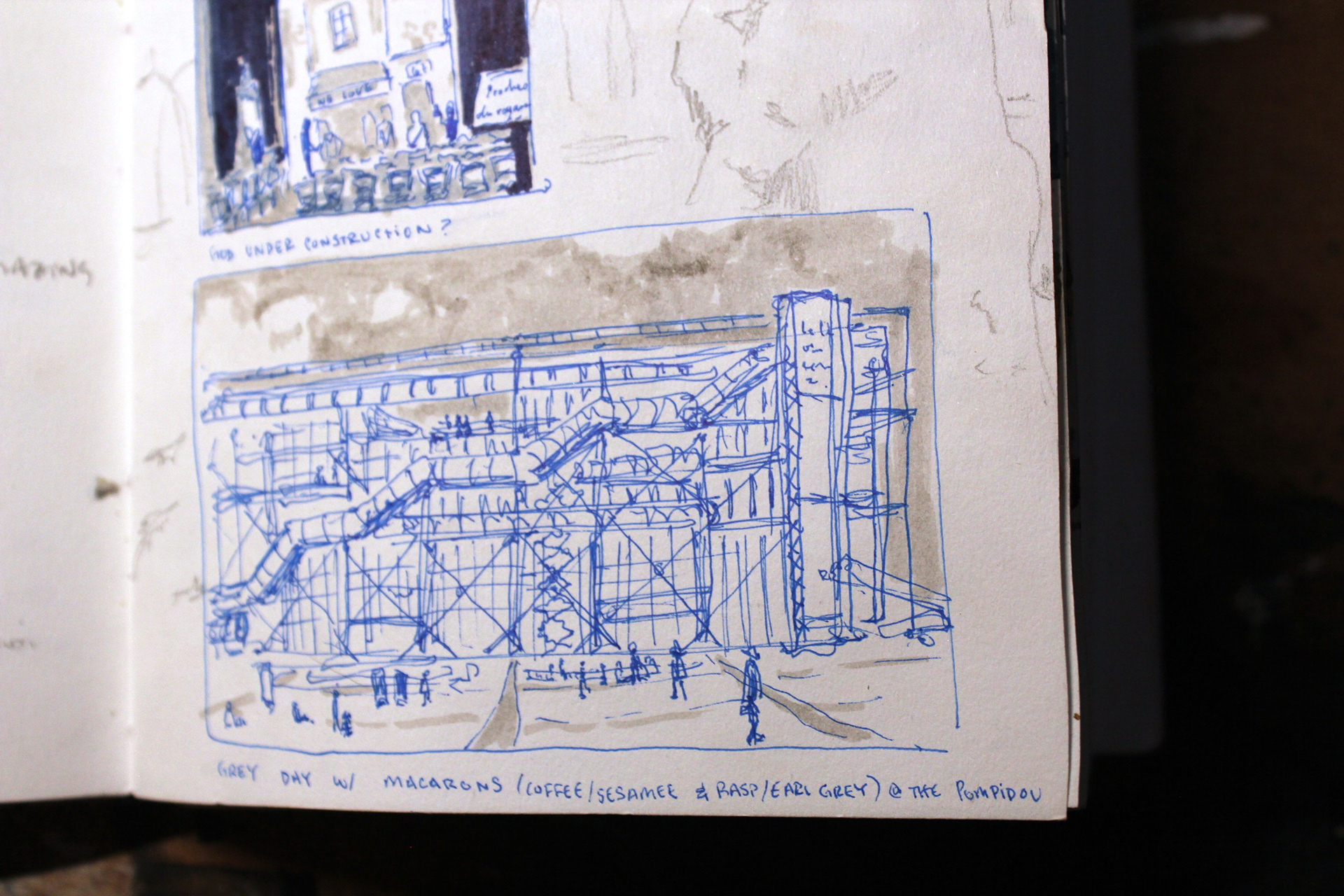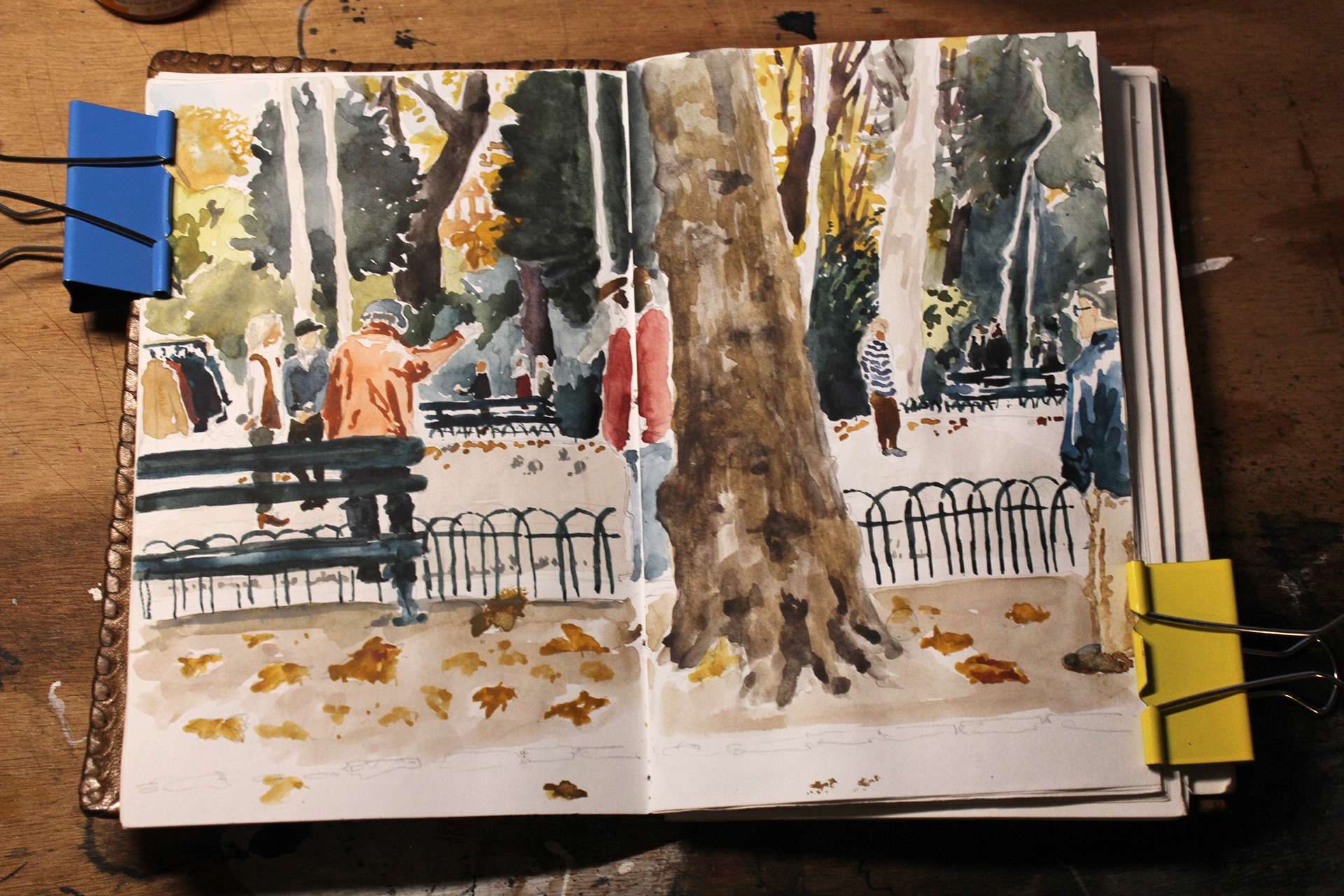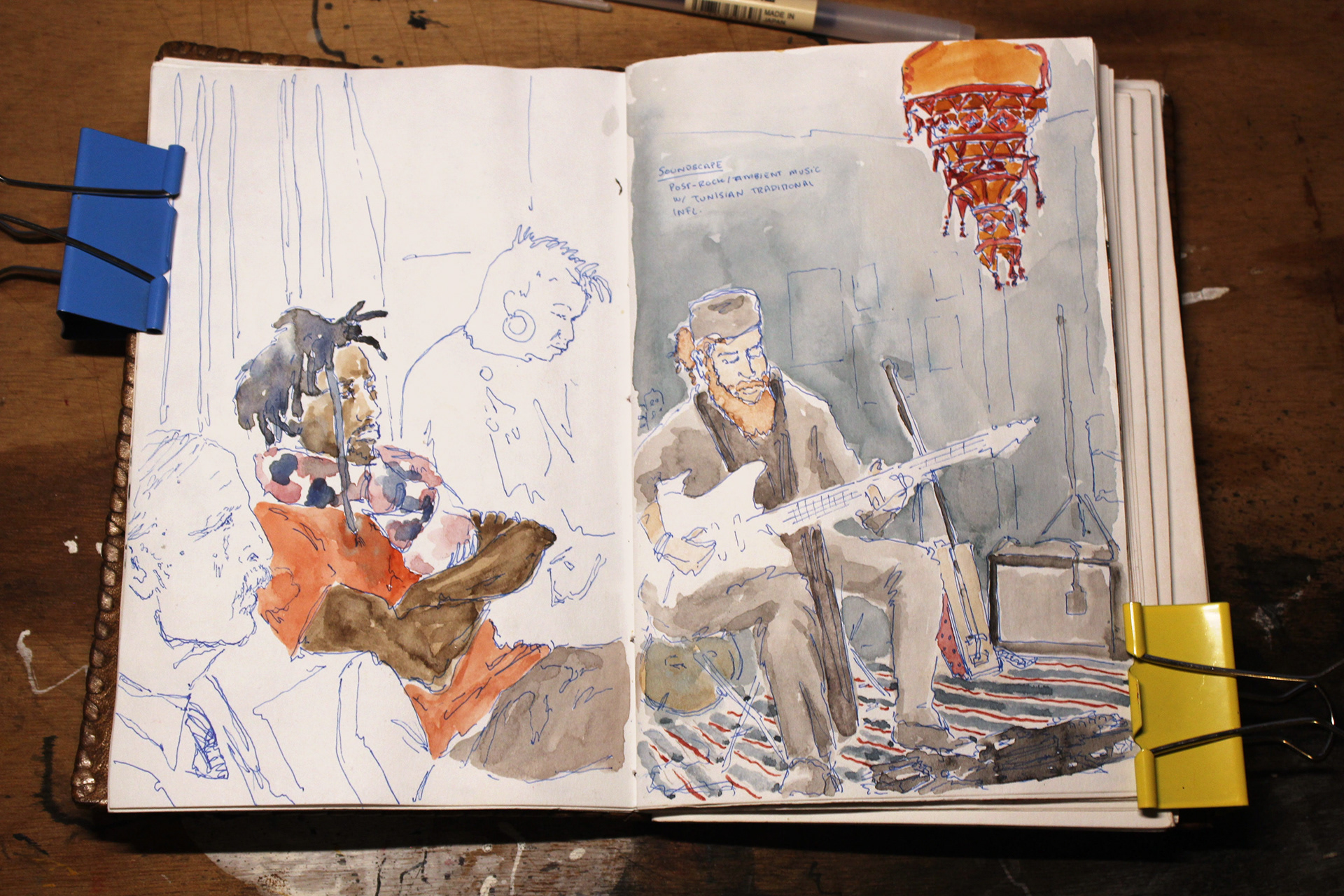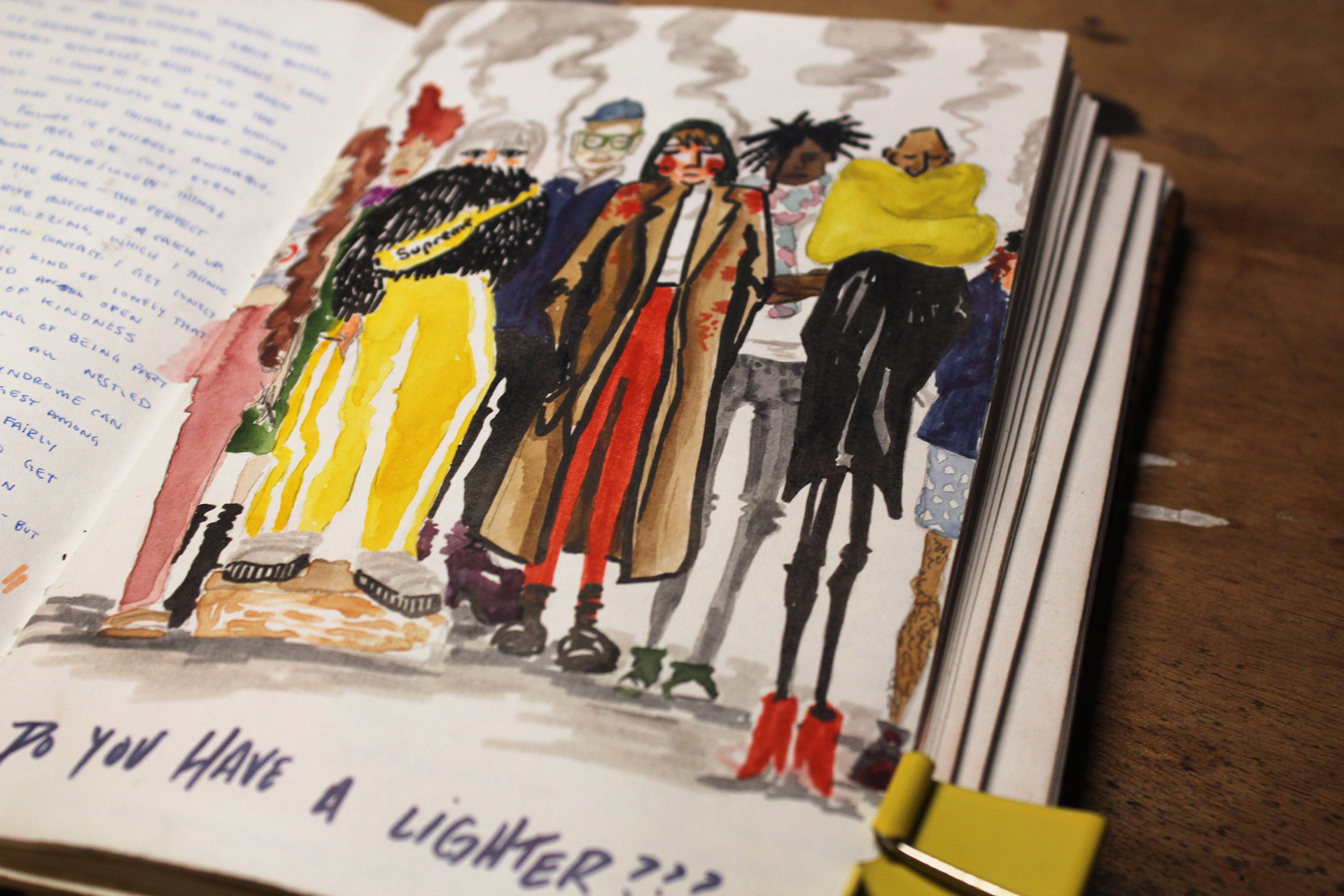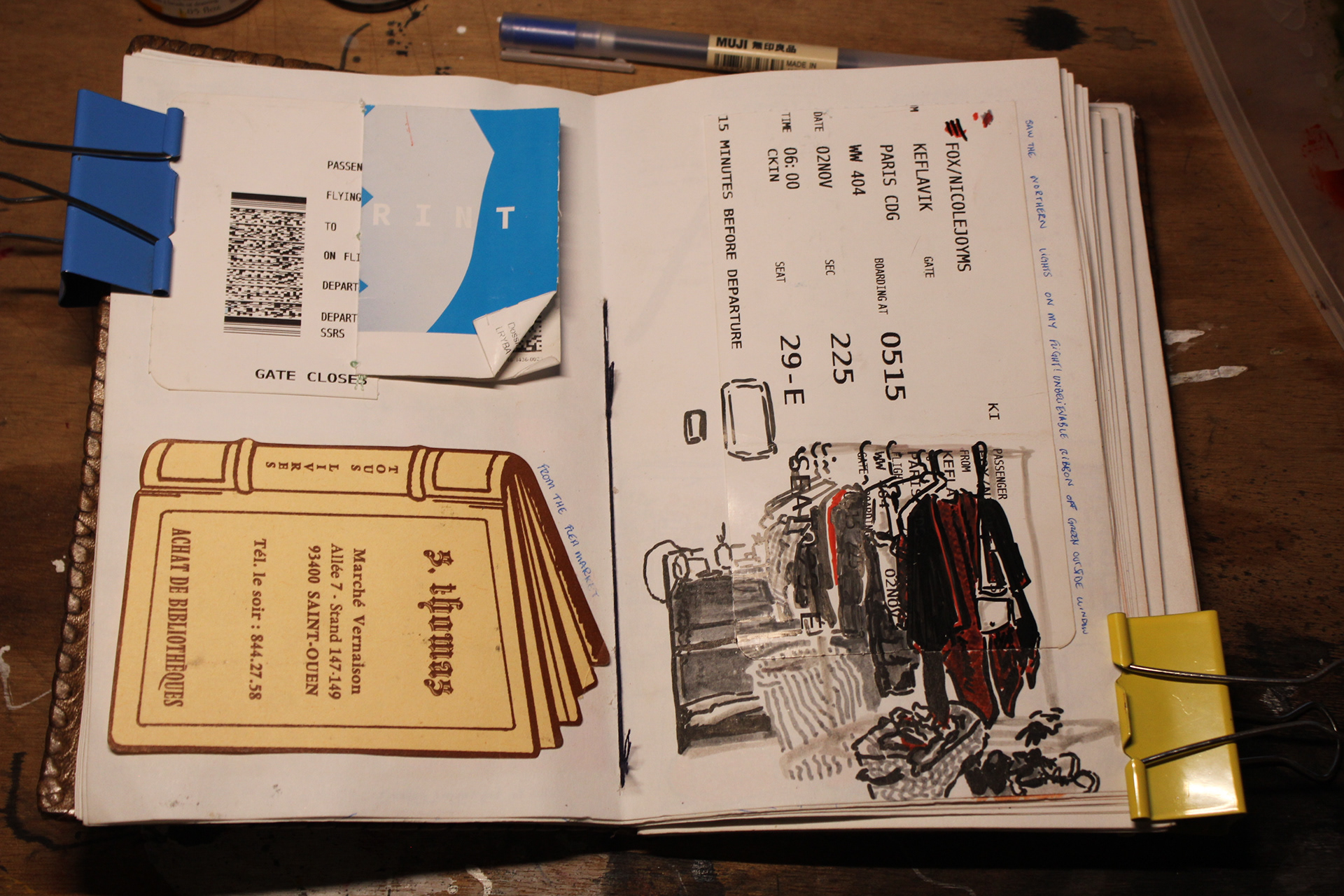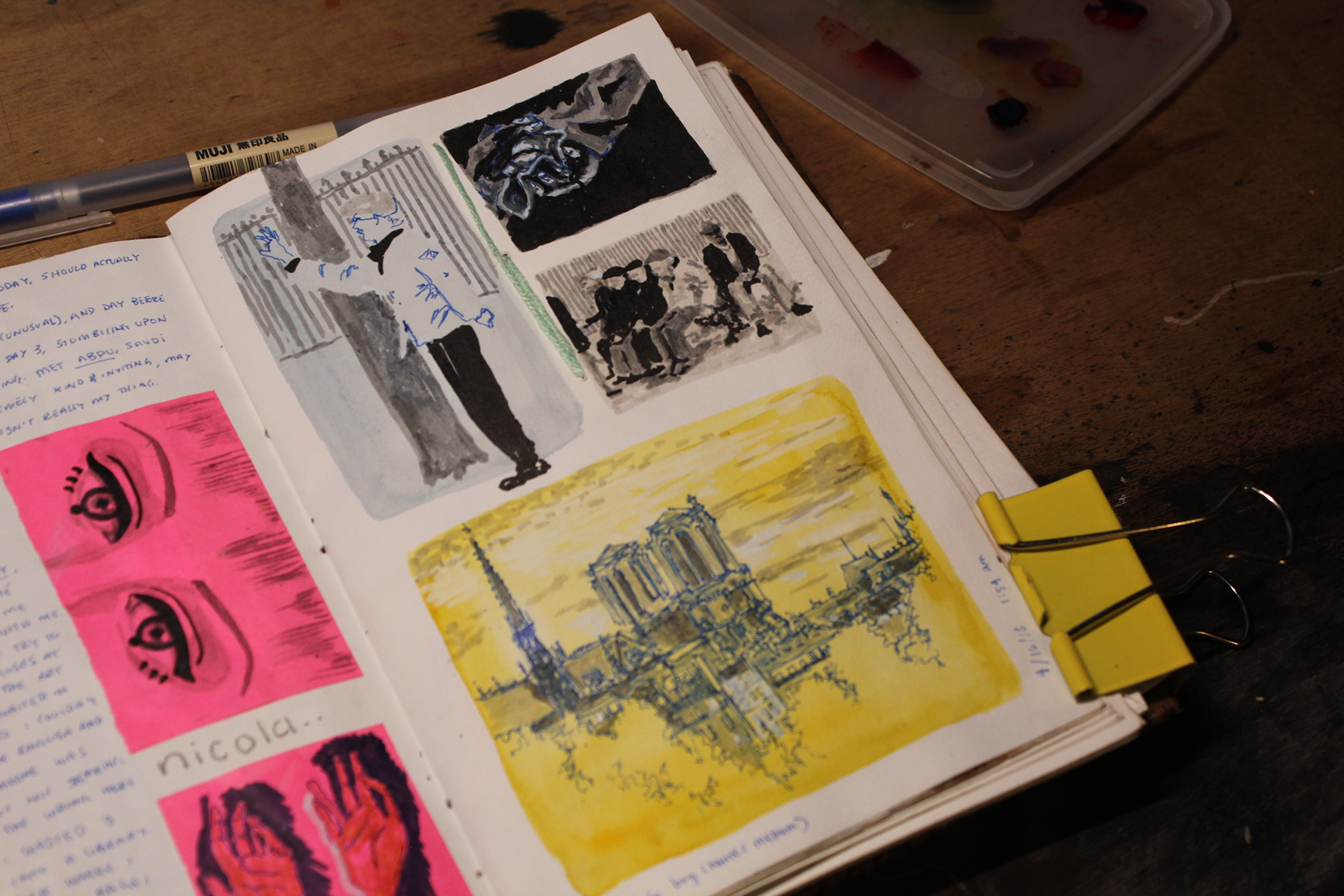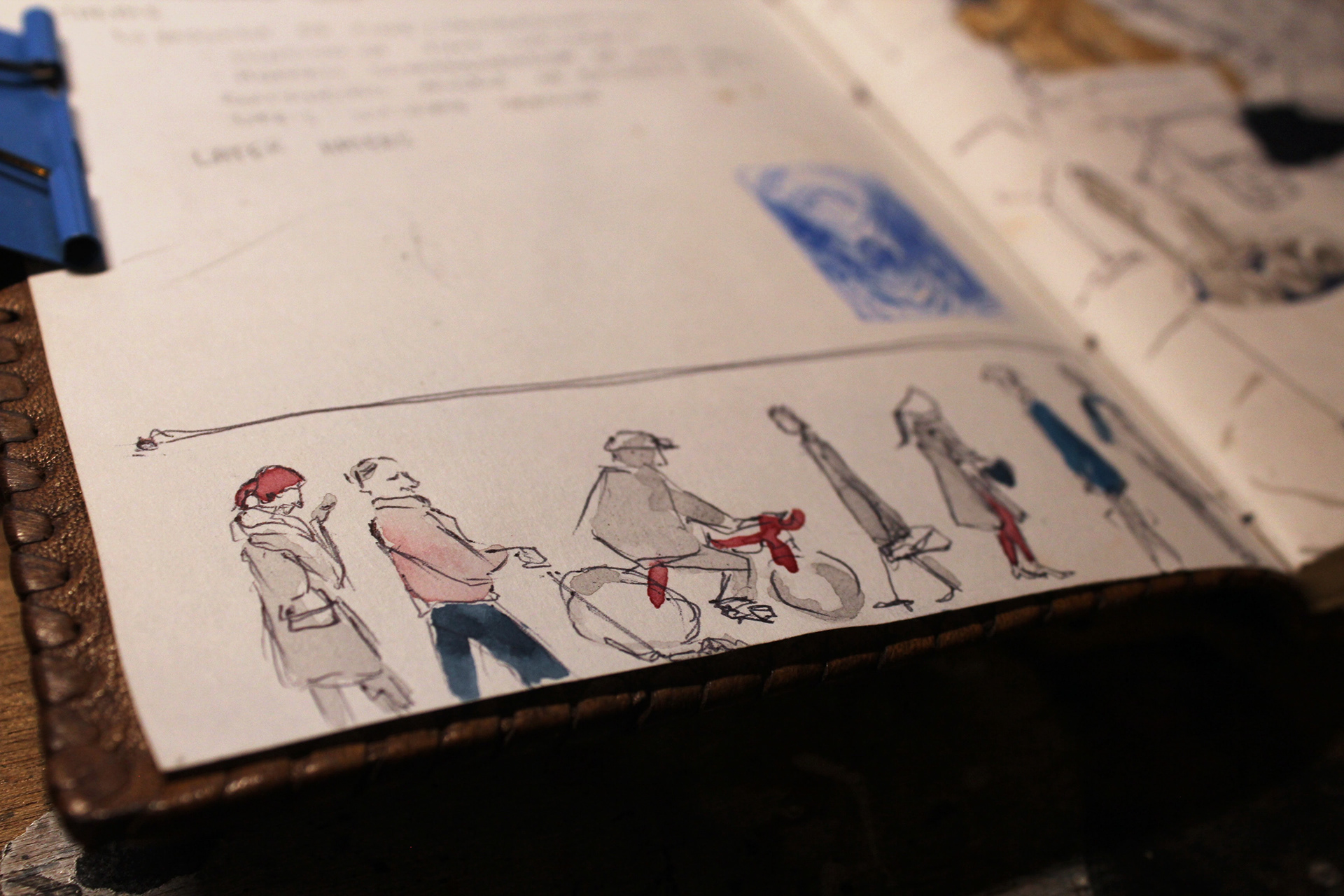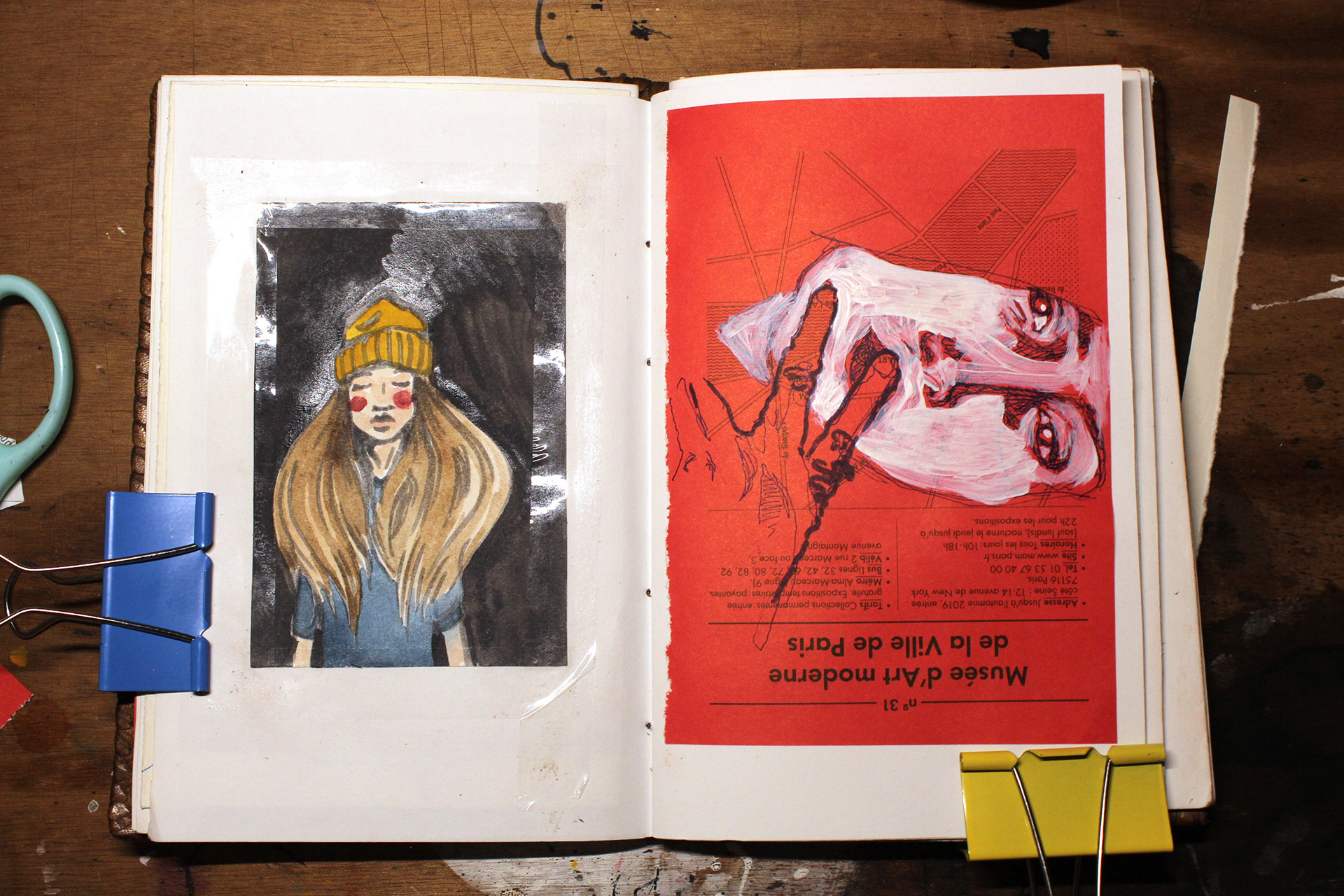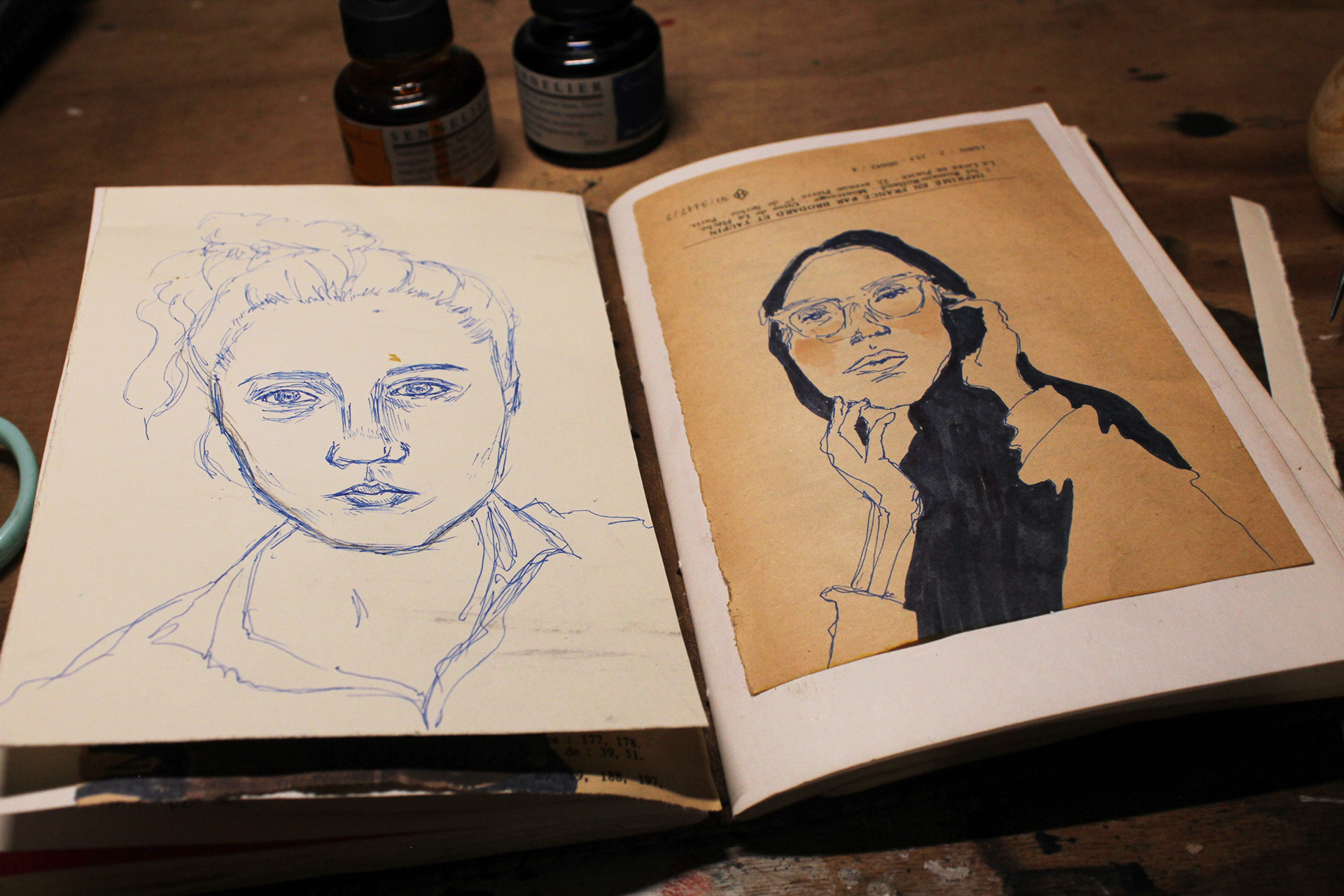 Thanks Giving
A study of dedication pages and the nature of public gratitude
​​​​​​​
This project ocured to me at my BFA capstone show when paging through the many books made by my fellow students in the communication program. Most of us had taken the opportunity of completing the project to use a dedication page to thank our professors, family and friends who had supported us through the process of creating the capstone. These pages contained inside jokes and stories, and illustrated friend groups, personal struggles, family dynamics and personal connections. I recognized the story-telling potential of just these pages alone. 
I created this book at Shakespeare and Co. - a preeminent English-language book shop and favorite spot in Paris. By photographing the pages and allowing their materiality to come through in the pages, I was able to emphasize their physical relationship to the books they dedicate. I chose not to include any identifying information about the book itself in order to foreground the people being thanked and the stories behind the stories. 
Related content:

"Camerado! This is no book; who touches this, touches a man. (Is it night? Are we here alone?) It is I you hold, and who holds yo; I spring from the pages into your arms." - Walt Whitman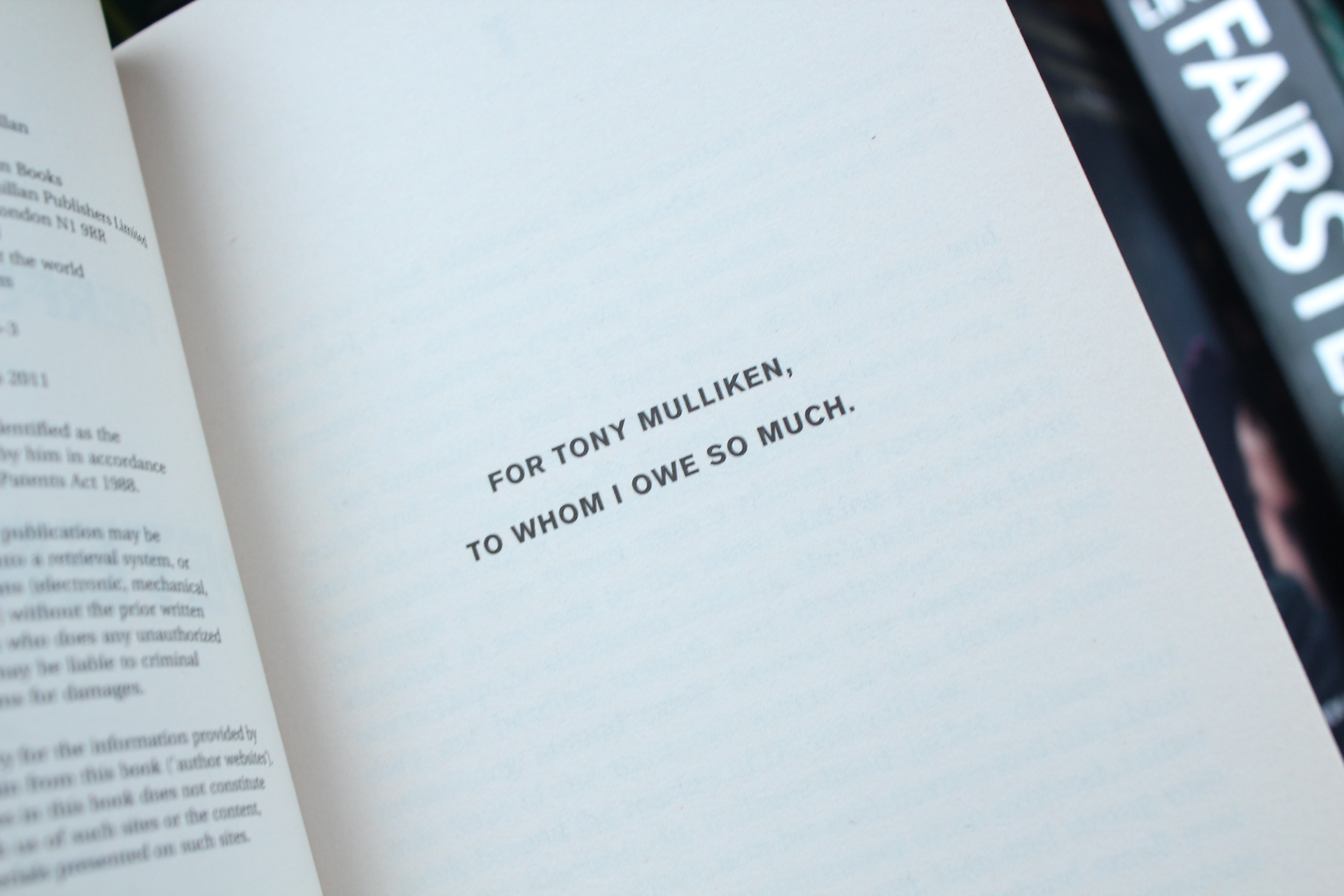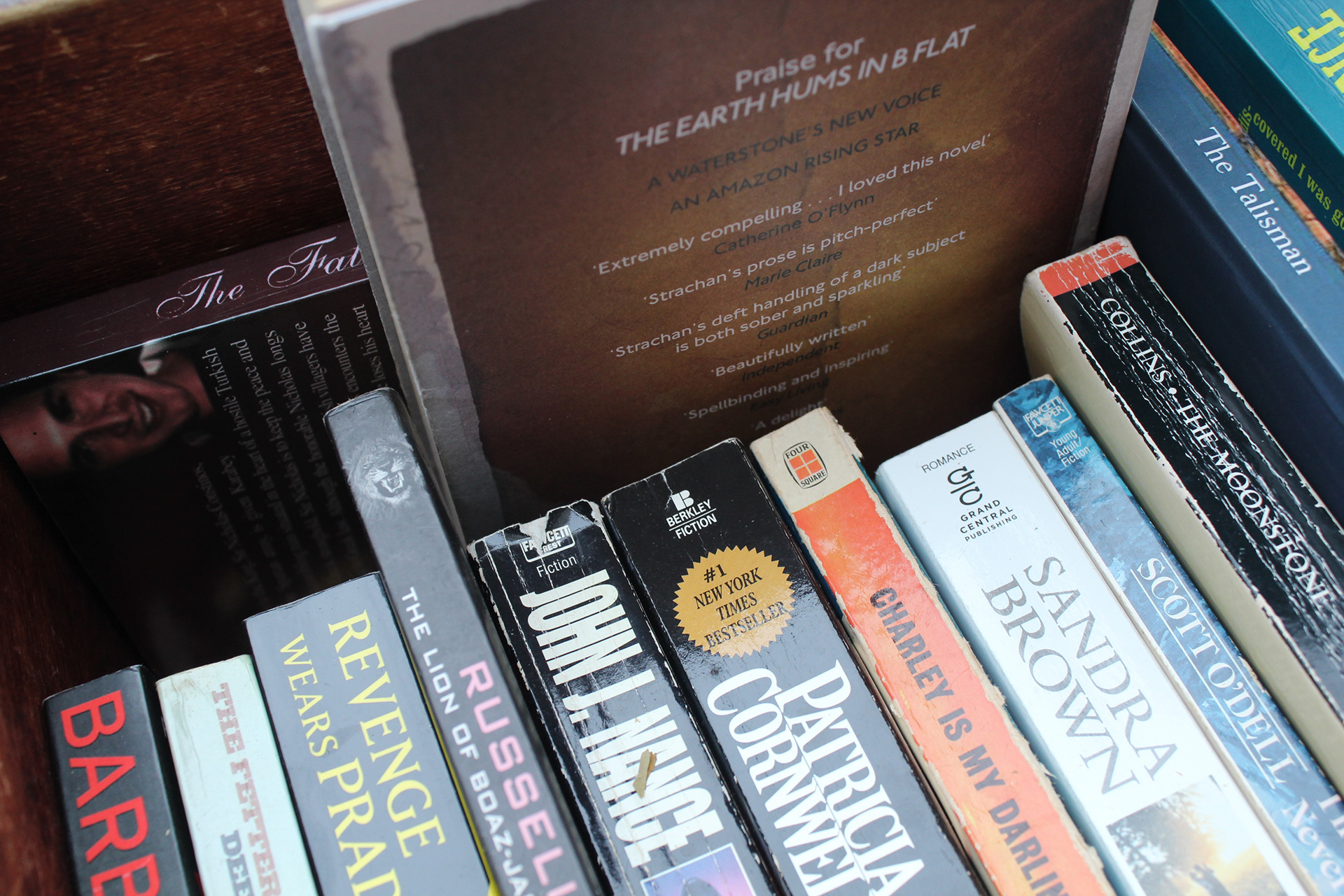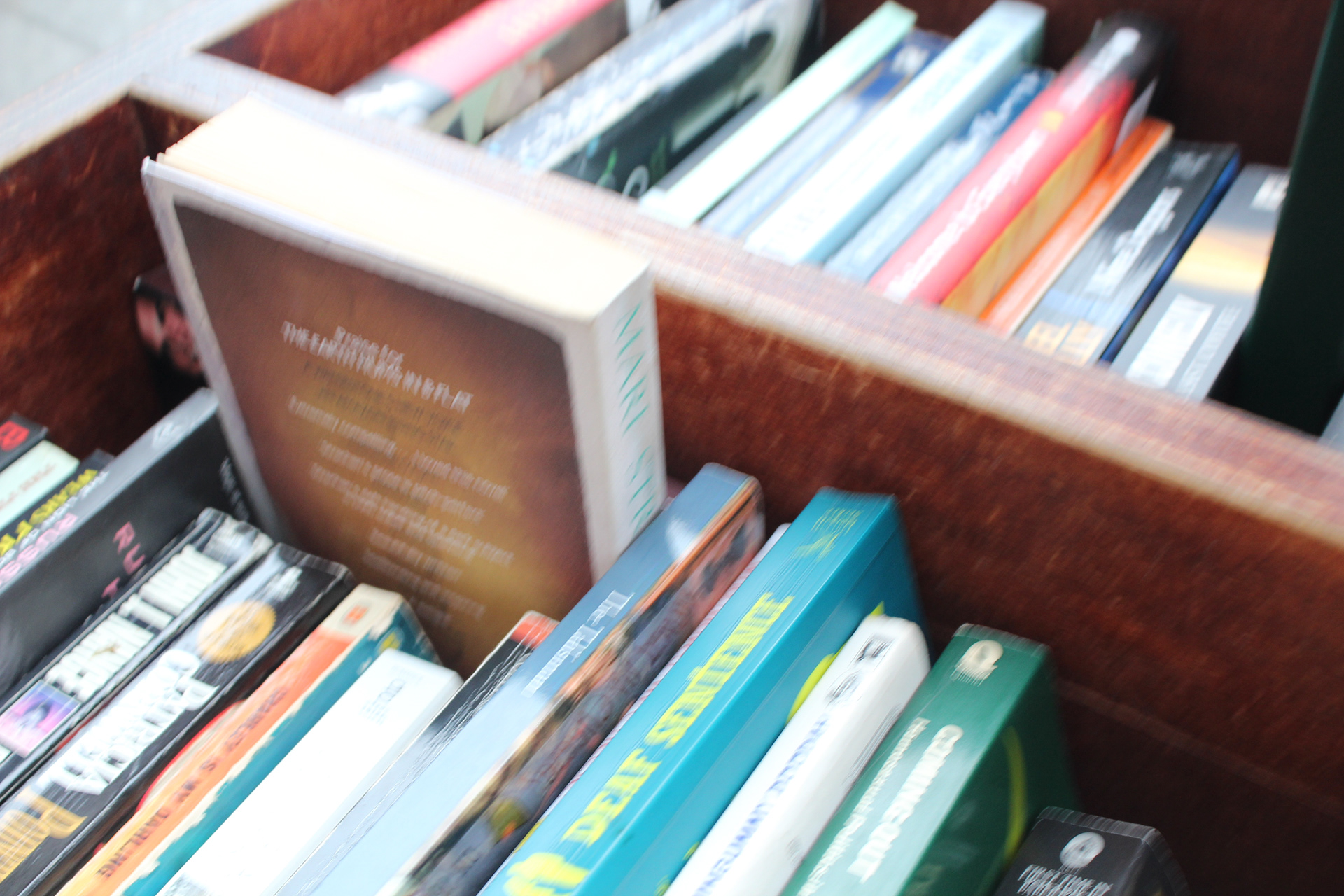 Lilies
Visiting the Musee de l'Orangerie, drawing two kinds of love
On a visit to Monet's famous Lily Garden paintings at the Musee de l'Orangerie, I was struck equally as much by the paintings as the people who had travelled there to view them. I spent several hours sketching their comings and goings, their selfie-taking, their planning out their next destination, their holding hands, their bickering, their sometimes deep, intimate, personal experience with the artwork in front of them. My initial impulse was severe cynicism - like a good artist, I had come here to view not the profile pic photo-shoot of Korean teenagers, but a famous work of art in a spectacular setting.  But as the hours passed, I came to be extremely charmed by my fellow museum visitors. They were so distracted by each other. So in love. So hungry or tired or ready for a nap. Above all, overwhelmingly human. I was fascinated by the relationship between this form of human expression and the famous one on the walls. The book that resulted isn't a tidy thesis statement, but rather a sketch of the brief humming connection I felt between two types of love.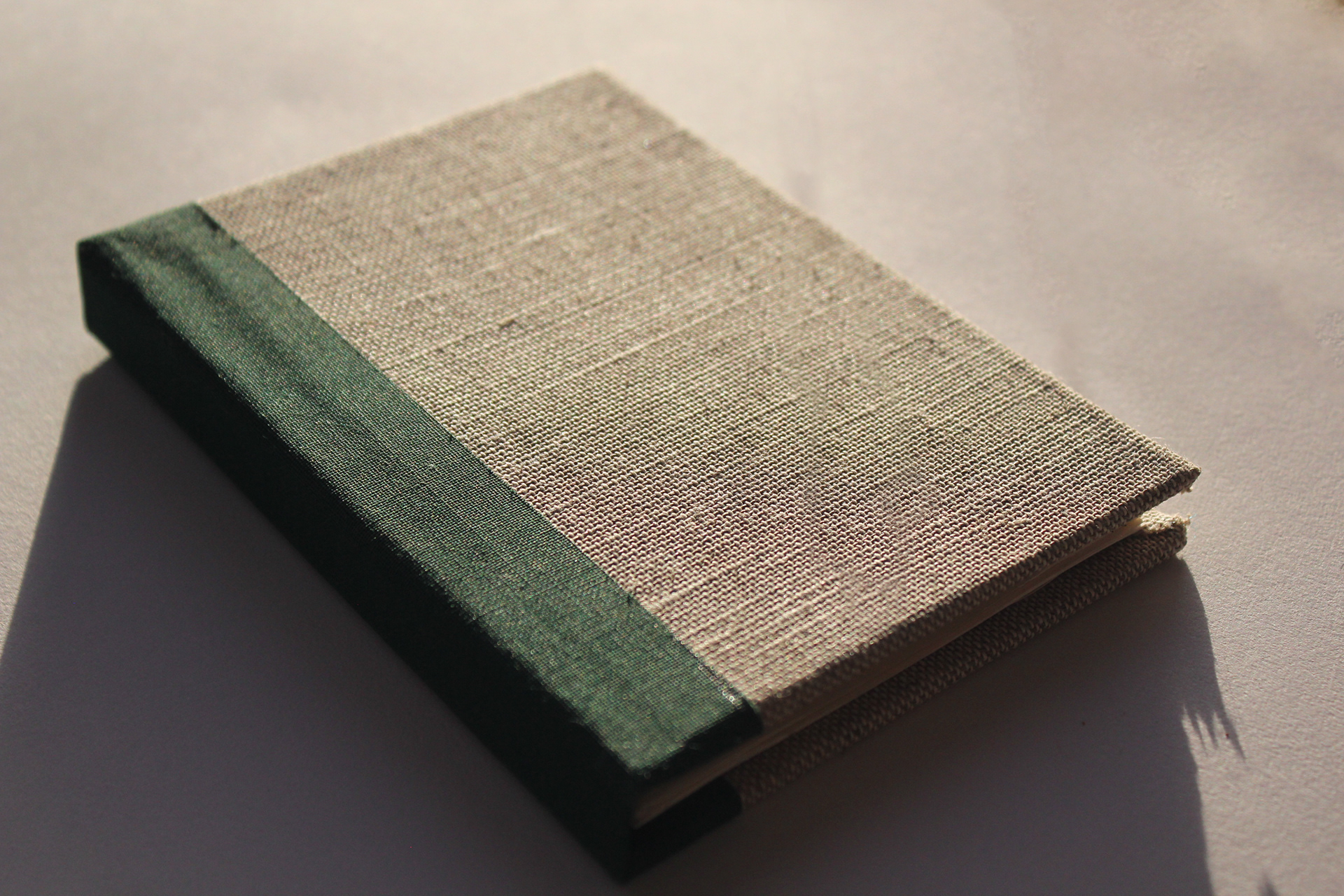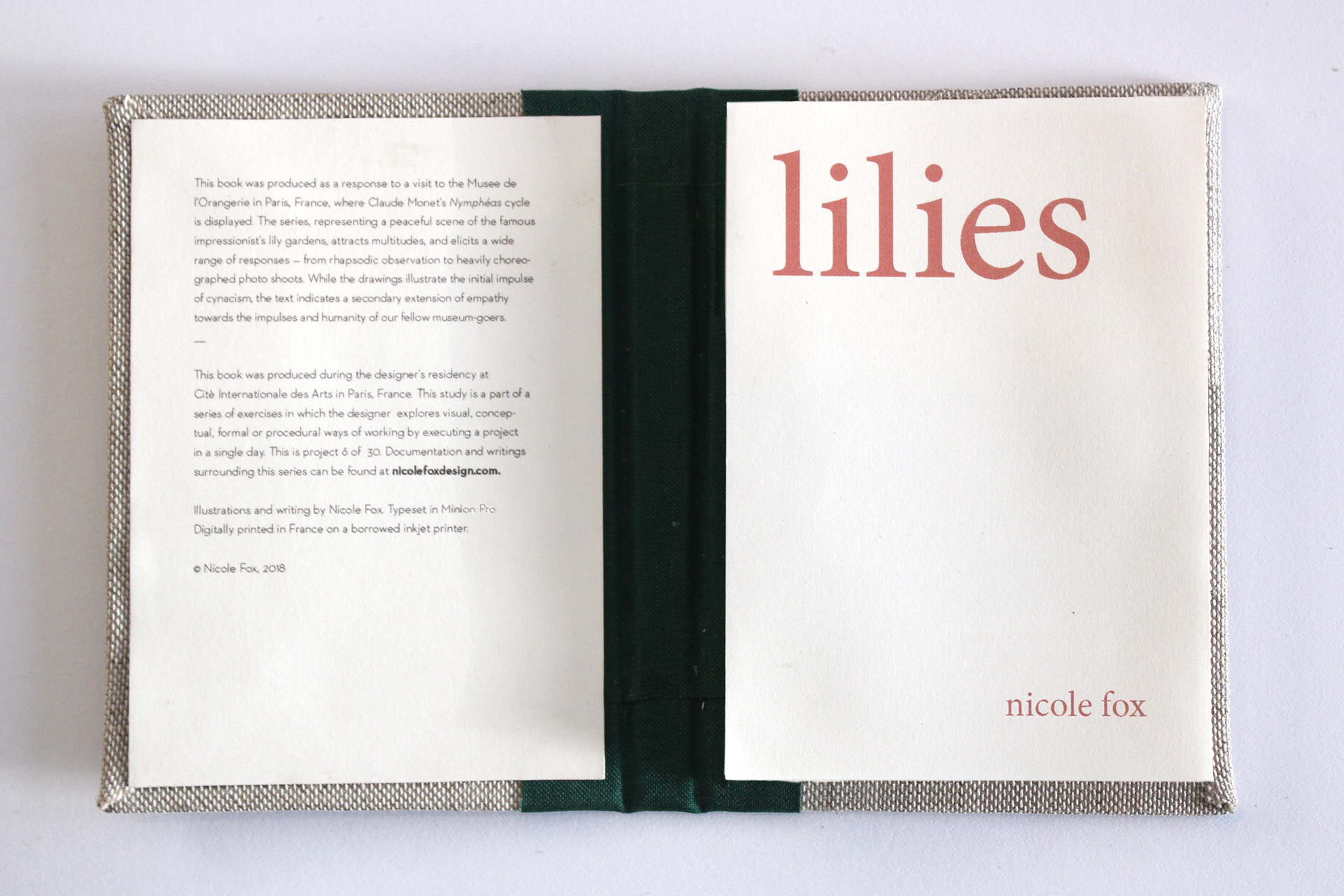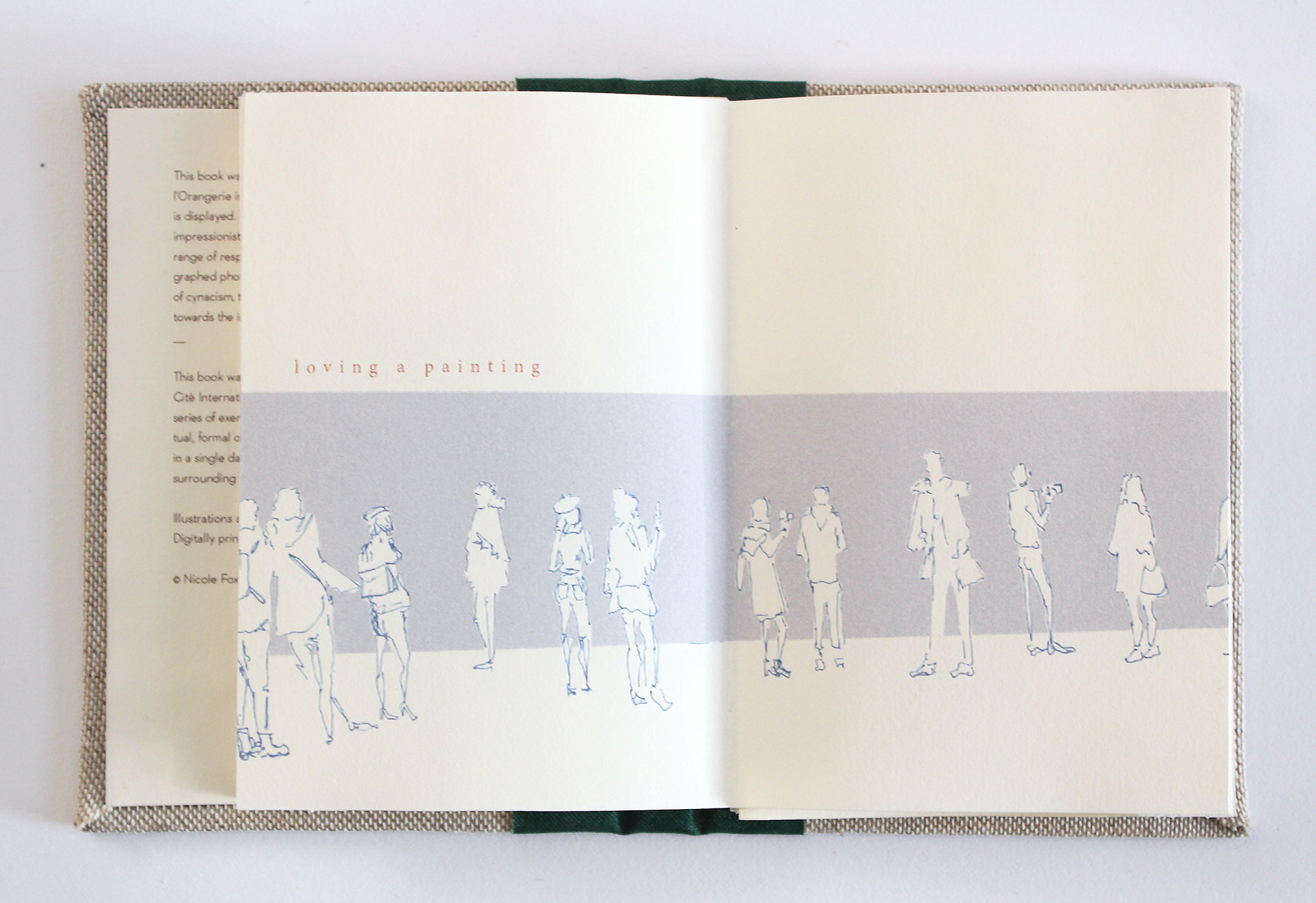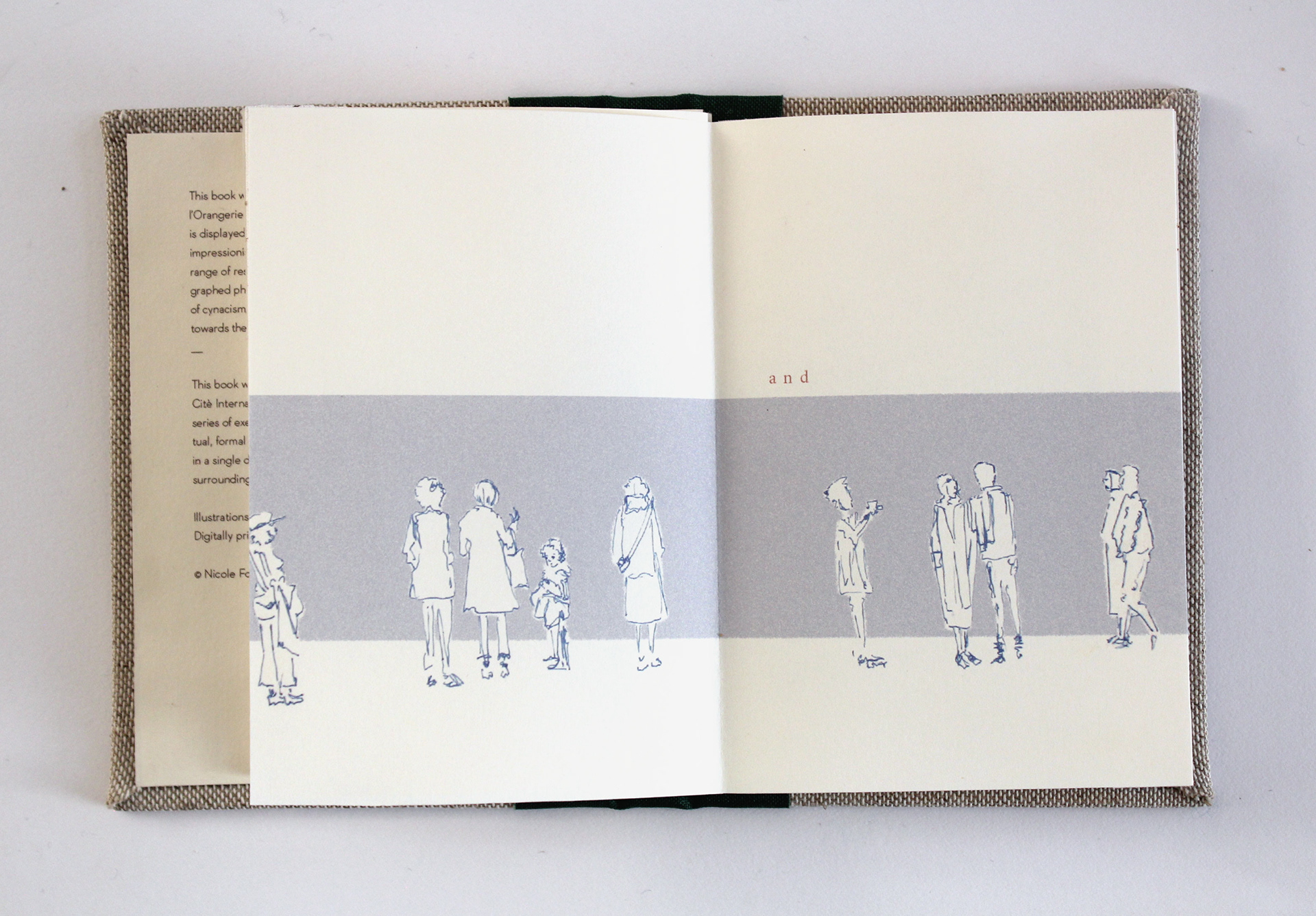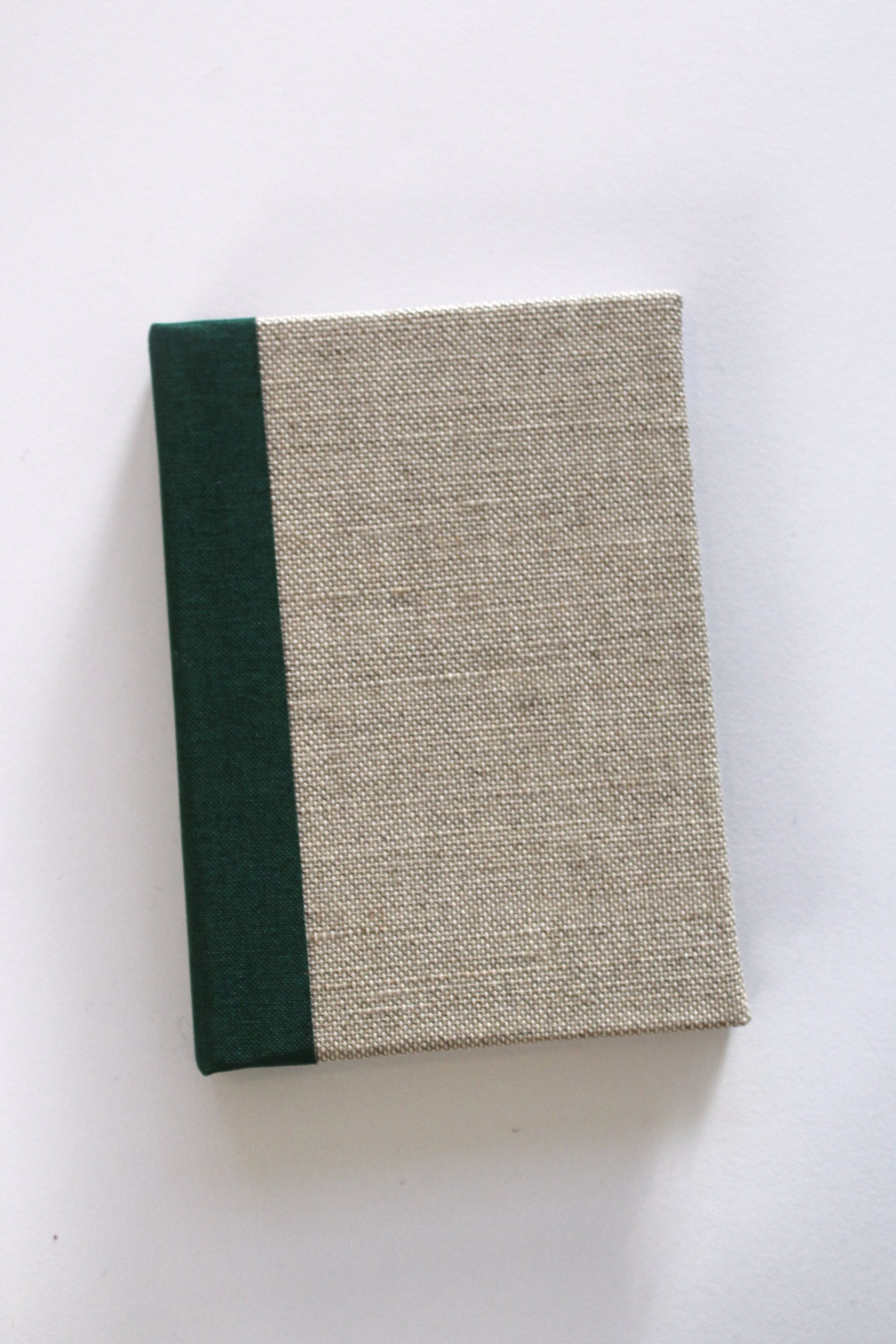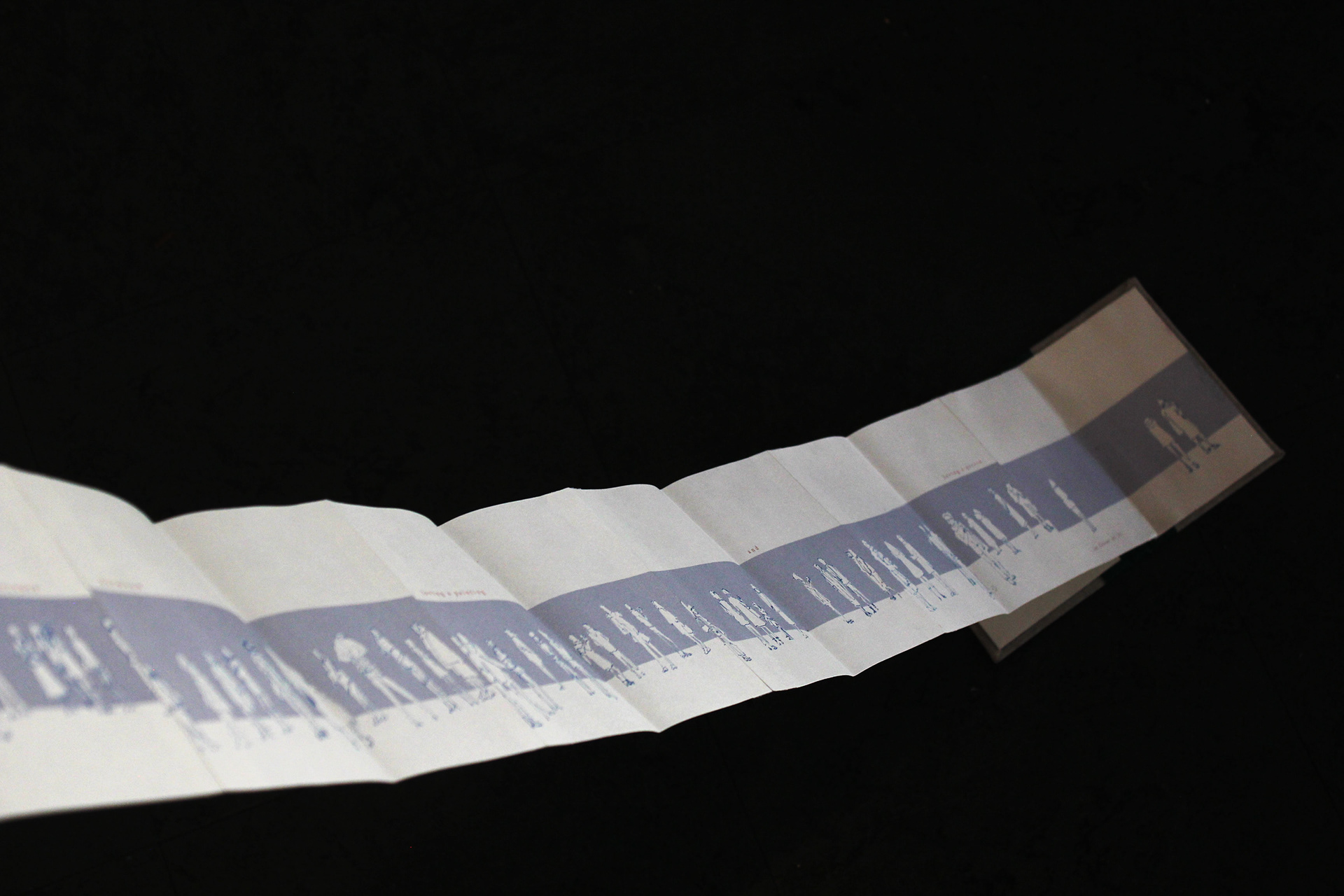 axiom
The failings of language in a post-truth world
This project became my ultimate focus during the rest of my time in residency, and helped me to further articulate the central themes in my personal practice as an artist and designer.
When working on my capstone about public lands, I became interested in the root causes of polarization, and by extension,

the factors that affect opinion formation.

Most people operate with a sense of clarity, even factualness, surrounding their personal beliefs and ideologies. But

facts rarely form the basis of our worldview,

and things like social circles and personal experience can more accurately predict a person's beliefs than their exposure to factual information. This can be spotted in conversations about climate change, in the entire dialogue surrounding consent and rape culture, and in the vast chasm between right and left ideologies surrounding seemingly factual issues.
In my capstone, my initial response to this deep societal issue - prioritizing our own social group rather than the credibility of our sources of information - was a call for greater dialogue, patience, and compassion for others' perspectives. 
Recently, however, I became more interested in the ways dialogue and the foundations of dialogue -

language - fails us even in our attempts to connect and understand one another.
This concept is addressed in a more concrete method in the work of Bertrand Russel, Ludwig Wittgenstein, and Kurt Godel, mathematicians and philosophers who worked towards finding a universal axiom that can be proved as a foundation for mathematics. Their failure to do so, and Godel's eventual theorem that no such axiom can be proven to exist, has profound implications on our understanding of truth. Ultimately, it reveals that no language - even the clarity provided by mathematics - can independently articulate a truth upon which other beliefs can be based.
I began a series of typographic studies using vocabulary borrowed traditional logic systems. Using combinations of words like "if," "then," "when," "but," "nor," "true," and "false," enormously complex ideas can be articulated. The combinations of words like "true nor false" or "if but when" provide the viewer with a foundation upon which personal narratives, ideologies and worldviews can build. 

By manual stretching, layering, overlaying and distorting the typography, I worked towards creating a visual for the false clarity language offers us. 
The result was a material system that shifted content depending on what angle you looked at it.